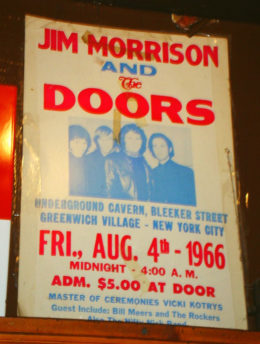 With a wide variety of music lessons we offer in Greenwich Village, Hey Joe Guitar fits right into this artsy and upbeat neighborhood.
The sounds of all the instruments we teach – guitar, piano, drums, trumpet, trombone, brass, reeds, saxophone, clarinet flute, violin, viola, cello, strings, accordion, ukulele, banjo, recorder, or mandolin (in addition to voice lessons) –blend in perfectly with the spirit of this lively and hip part of Lower Manhattan, which was once home to music legends like Bob Dylan, Jimmy Hendrix, Simon and Garfunkel, Joan Baez, and James Taylor.
Let's take a walk along the streets that were once the stomping ground of Henry James, Edith Wharton, Edgar Allan Poe, Mark Twain, Walt Whitman, Eugene O'Neill, Norman Rockwell, Jackson Pollock, Mark Rothko, and scores of other famous (and infamous) artists.
"Out-of-the-box" neighborhood
If you were asked which part of NYC is most bohemian and funky – from its shops, coffee houses, bars and music haunts to its people – chances are you wouldn't say "Wall Street!" That's because this title goes to Greenwich Village, a small area below 14th and north of Houston Street, which has long been an undisputed hub for rebellious musicians, artists, writers, and other creative types. During the 1950s, this neighborhood (made up of East and West Village) had become a haven for members of a sub-culture movement known as the "Beat Generation" – a phrase coined by writer Jack Kerouac to describe young people who eschewed tradition and practiced unconventional lifestyle such as communal living and psychedelic drugs. Sometime Greenwich Village resident himself, Kerouac pioneered not only the Beat Generation, but also the Hippie movement of the 1960s.
Perhaps it is not coincidental that the hippies, at least those who chose the East Coast over Berkeley, California, flocked to the Village, attracted by its free-spirited, non-conformist ambiance.
Kerouac conveniently lived just around the corner from the White Horse Tavern at Hudson and 11th Streets, a bohemian hangout also frequented by fellow writers Norman Mailer and Dylan Thomas.  The bar, first opened in 1880, is still a favorite haunt for local residents and tourists alike.
While it still retains much of its bohemian feel, over the years rental prices in this once inexpensive neighborhood have risen dramatically.
As Norman Mailer (founder of the Village Voice newspaper) put it: "I got to the Village in 1955. One of the ironies of today is that unless you're pretty high up in the bourgeois world, you can't afford to live in Greenwich Village."
(Needless to say, this could be said about almost any area of New York City).
Bring on the music
Maybe because so many artists used to live or perform here (think Pete Seeger, Joan Baez, Dave Brubeck, Sarah Vaughn, Lionel Hampton, and Dizzy Gillespie, among others), Greenwich Village has always had a vibrant and eclectic music scene, with excellent folk, blues, jazz and rock venues easy to find.
Here are some of Hey Joe Guitar's favorite music haunts:
The Bitter End rock club, at 147 Bleecker Street, where Stan Getz, Etta James, Carly Simon, Joni Mitchell and thousands of other musicians and comedians used to perform, is still a lively music venue.
When he first arrived in NYC in 1961, Bob Dylan performed Woody Guthrie songs at Cafe Wha (yes, it's the right spelling!), 115 MacDougal Street, which still rocks with live music seven days a week.
Scores of artists recorded their albums in the basement of Village Vanguard Jazz Club (178 Seventh Avenue South), including Sonny Rollins's "A Night at he Village Vanguard" in 1957. Vanguard's own jazz orchestra plays there every Monday night, and other performers make guest appearances throughout the week.
Sara Vaughn, Lionel Hampton and Tito Puente are just some of the well-known performers who played at the Blue Note. This jazz club and restaurant at 131 West Third Street still has excellent live music every evening.
Finding good music is (literally) a walk in the park
Are you in the mood for live music but want to stay outdoors? Stroll along one of Greenwich Village's open-air spaces, the Washington Square Park.
Known for an arch and New York university campus buildings surrounding it, the park has long been a gathering spot for students, chess players, street musicians, and other performers. Both Joan Baez and Bob Dylan used to sing here.
In the summer, there is a free festival featuring classical and chamber music, opera and jazz.
Clearly, wherever you go in this neighborhood, there is a wide variety of music to be found in clubs, bars, and on the streets.  All those wonderful sounds might inspire you to learn to play an instrument too. All you have to do is call us and we'll come to your Greenwich Village home or office to teach you.
Sometimes, it really does take a Village!
***
Photo Credit : quapan