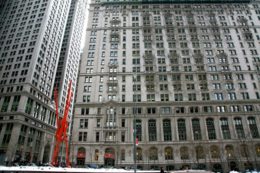 If you are looking for a music school in Manhattan's Financial District, you can…count on Hey Joe Guitar. And what about South Street Seaport? That'll be smooth sailing as well!
One of the coolest things about New York City is how neighborhoods with very different vibes blend smoothly into each other – a seamless fusion that you'd expect to experience in this "melting pot" of a city.
Take the Financial District and South Street Seaport, for example. The former is a hub of the country's economic powerhouses such as the New York Stock Exchange and the Federal Reserve Bank of New York. On any given day of the week, over quarter of a million people descend upon this part of Lower Manhattan to work in banks and other financial institutions. The latter is a relaxed and laid-back area that looks and feels more like a harbor town than a busy city. And yet both these neighborhoods co-habit side by side on the southern tip of Manhattan, each with a distinct ambiance of its own.
A neighborhood of contrasts The Financial District, also called the FiDi, is located in the southernmost section of Manhattan, between the East River and West Street. With a bird's eye view, the FiDi looks like a sea of modern mega-skyscrapers. But if you look at the neighborhood from the ground level, you might be surprised to see many old two- and three-story brick buildings. They may be dwarfed by the surrounding high-rises, but they are the important vestiges of New York's (and America's) history. The Federal Hall on Wall Street, for example, was the location of George Washington's inauguration as America's first president, on April 30, 1789. That was the time when settlers from Europe started to build wooden homes here, giving this part of Manhattan (or New Amsterdam, in those days) the look of a small but growing town, which would eventually morph into the financial nerve center of the United States. History on every corner Just a stone's throw away from the Financial Center lies a neighborhood that projects a totally different feel – that of an old seafaring town. It is not by accident that this part of the city, wedged into the intersection of Fulton Street and the East River, is called South Street Seaport – it is located in the southern-most section of Manhattan and it does have an atmosphere of a seaport, even though it sits on a river. A fleet of old ships moored by the harbor is a constant reminder that this site was once the busiest port in America and historic (though now renovated) buildings once stood along the cobblestone streets. After the Brooklyn Bridge was built in 1870, however, local merchants and residents moved away and the neighborhood fell into disrepair. It was only in the second half of the 20th century that a group of citizens started to turn this community into an open-air museum. The original Fulton Street fish market is no longer there, but a weekend specialty market occupies the former fish stalls along South Street. Eat, drink (in moderation) and be merry! Yes, the South Street Seaport is a beehive of activity, with music festivals, live performances (including at the historic Pier 17), art exhibits, and plenty of shopping and dining options. What about the FiDi? Once the hustle and bustle of a workday is over, the majority of people leave the business district. However, for over 50,000 people this neighborhood is home sweet home. Fortunately, the Financial District is not just all work and no fun! For instance:
George Washington might not have slept at Fraunces Tavern on 54 Pearl Street, but he did use the premises of New York City's oldest building (dating back to 1762) to give a farewell speech to his troops in 1783.
For live concerts featuring various bands, head to Canal Room at 285 West Broadway.
John Street Bar and Grill at 17 John Street is a great after-work bar dive, and even the most serious financiers need to relax and let their hair down once in a while!
Let's play together!
If you live or work in the Financial District or South Street Seaport neighborhoods, you can make your own beautiful music!
How? Hey Joe Guitar will teach you! Our music school is mobile, so we will be happy to come to your home or office and give you music lessons on any instrument that strikes your fancy.
Just call or email us and…make a playdate!
***