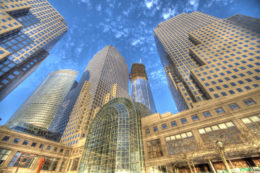 Battery Park City: music lessons in your neighborhood – and yes, batteries are included.
When people talk about the "Manhattan vibe," they envision a high-energy, hyperactive place that bursts at the seams with people, noise, and chaos. (Don't get us wrong -we LOVE Manhattan!)
Maybe they've never visited Battery Park City, an urban oasis that is  "un-Manhattan-like" in many ways:  on a cold winter day the only noise you will likely hear is the whistling of the wind. In warmer weather, its tree-lined streets, lush greenery, and a 1.2-mile pedestrian esplanade along the Hudson provide a welcome respite from the hustle and bustle of midtown and uptown areas – not to mention stunning views of Jersey City's downtown district on the other side.
Yes, Battery Park City is a great neighborhood, tranquil enough to relax in and…recharge your batteries!
The river runs through it
Well, to be accurate, the Hudson actually runs by the edge of this neighborhood, providing the western boundary to the area bordered to the east by 12th Avenue / West Side Highway.
Long before this area on the tip of Lower Manhattan became a neighborhood it is today, it was just a rocky ledge. When Native Americans and Dutch settlers arrived here in the early 17th century, they built a "battery" of cannons around the rugged shore. That's how this part of Manhattan later got its name.
In the 19th century, as more and more immigrants sailed to America, the site was used as a welcoming and processing center before Ellis Island opened in 1892. Today, Historic Battery Park marks the location of immigrants' arrival in New York.
Battery Park City as it is today was built over filled-in land of soil, sand and rocks excavated from other construction sites – including that of the World Trade Center towers. This planned community originally started out as an innovative experiment in urban living: to create an inner-city neighborhood with a small-town / suburban feel.
Mission accomplished!
Rooms with the view
Okay, so it depends on where in this area you happen to live. If you are lucky, you'll get a glimpse of the Statue of Liberty, the glass-and-steel towers of the World Financial Center, the New York Harbor or, as mentioned above, Jersey City's skyline.
If your apartment doesn't provide rooms with the view, head to Wagner Park where you can admire not only beautifully landscaped scenery, but also sweeping vistas from the roof deck of the Park Pavilions. And just strolling along the waterfront esplanade gives you some great views as well.
Wagner Park is a very scenic location, but it is not the only haven of serenity and greenery in this neighborhood. Other public spaces, such as South Cove, West Thames Park, and Rector Park, all have a quiet charm of their own.
And let's not forget Battery Park itself, scenically located on the neighborhood's southern shore. Its beautiful waterfront and flower gardens are certainly worth repeated visits.
A Sunday In Battery Park
Though this is the title of a song written by ABBA's Benny Andersson and Bjorn Ulvaeus, Sunday – or any day for that matter – is indeed a good time for a leisurely stroll or a more energetic jog through the park's pathways.
What else is there to do in the neighborhood besides walking running, admiring the views, as well as free summer concerts in the parks? Since Battery Park City is predominantly a residential area, it doesn't have as many entertainment venues as other parts of Manhattan.
But no need to worry – just a quick jaunt to the nearby Tribeca will give you a vast array of trendy dining, clubbing, and other entertainment options. And there is no shortage of legendary haunts where you can listen to a wide variety of music styles – Mercury Lounge, Canal Room and SOBs, just to mention a few.
What if you don't feel like leaving the neighborhood but would still like to hear some good music?
We can help you, by bringing "music" right to your doorstep!
At Hey Joe Guitar, we can come to your Battery Park City home or office and teach you to play any instrument or give you voice lessons – any age and any level.
See, it's as easy as a… walk in the Park!
***