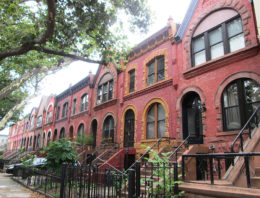 Just like Manhattan and other New York City boroughs, Brooklyn's neighborhoods are diverse and eclectic. Some have the urban buzz to them, while others are quiet and laid-back.
Brooklyn Heights fits into the latter category. Located away from the borough's businesses and factories, it is peaceful and charming. With its tree-lined streets, it could very well be a suburban neighborhood. In fact, it was originally referred to as the "Brooklyn Village." Because of this relaxed and easy-going feel, this area, which stretches from Old Fulton Street south to Atlantic Avenue, and from the Brooklyn-Queens Expressway to Court Street, has been called "America's original suburb." Architecturally too, Brooklyn Heights has a lot to boast about.
Historic houses
Being a "home" to over 600 historic buildings deserves official recognition and in 1965, New York's Landmarks Preservation Commission designated this neighborhood as the city's first historic district. As the Commission noted at the time, Brooklyn Heights' "stately brick and brownstone houses, on their tree-lined streets with their stone sidewalks, represent most of the principal architectural styles of the 19th century…the houses represent almost unchanged the community as originally built." Examples of pre-Civil War architecture abound: Built in 1824, a wood-frame house at 24 Middagh Street is Brooklyn Heights' oldest home. Just a stone throw away, at 64 Poplar Street, stands a clapboard house built in 1834 by poet Walt Whitman and his father. Other sections of the Heights boast architectural gems as well: Row houses on Remsen Street, the Herman Behr Mansion at 82 Pierrepont Street, and St. Ann and the Holy Trinity Church, located on the corner of Montague and Clinton Streets. Brooklyn Historical Society is a great resource to explore the Heights' 400-year history.
Nature and culture
This neighborhood's architecture and historical sites are certainly worth seeing, but there is more here to entice visitors. The Promenade is the neighborhood's most popular public space. Besides its beautifully maintained flower beds, trees, benches and playgrounds, it also offers great views of the Brooklyn Bridge, the Manhattan skyline, and the Statue of Liberty. But just because Brooklyn Heights is a quiet area doesn't mean it lacks culture. On the contrary! The Heights Players is Brooklyn's oldest self-sustaining community theater, which has been part of this neighborhood for nearly six decades. And there is also the Brooklyn Heights Music Society, which sponsors concerts in various Brooklyn locations each year. Of course, there is no shortage of in-home music lessons either – it's easy and convenient to set them up!