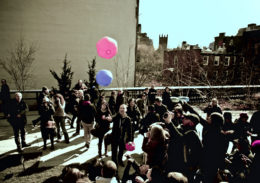 Are you looking for New York City music lessons in Chelsea? Our school is a perfect fit – and you don't even have to write songs about it!
"Woke up, it was a Chelsea morning, and the first thing that I heard Was a song outside my window, and the traffic wrote the words. It came a-reeling up like Christmas bells, and rapping up like pipes and drums."
What better description of a NYC's neighborhood is there than the words of Joni Mitchell's 1969 song, "Chelsea Morning." (Yes, the singer actually did live in Chelsea when she wrote this tune).
The song inspired Bill and Hillary Clinton to name their daughter Chelsea. And Collins performed this song at President Clinton's 1993 Inaugural ball.
Is this the only example of a song about a Manhattan neighborhood inspiring a person's name? We are not sure, but let's just say that there are no people (to our knowledge) named Hell's Kitchen!
London calling!
Actually, the name of this west side neighborhood, stretching from 14th to 29th Street and from Broadway to Hudson River, is not totally original.
In the mid-18th century, a retired British Major Thomas
Clarke bought 94 acres of land in this part of Manhattan and named it Chelsea, after an English military hospital. His own mansion was built on what is now West 23rd Street, the site of the present-day London Terrace building. (And yes, there is a neighborhood called Chelsea in London as well.)
Over the centuries, Chelsea's history mirrored that of other NYC neighborhoods – from the influx of immigrants settling in the area, to a gritty district full of lumberyards, breweries, and tenements for low-income people.
Prior to World War I, before Hollywood became the motion picture capital of America, Chelsea was the center of the (silent) film industry; in fact, several of Mary Pickford's movies were made on the top floor of an armory building at 221 West 26th Street.
"Market" value
In recent decades Chelsea has blossomed into a combination of an artsy, commercial, and residential enclave, which – like other NYC neighborhoods – has maintained its ethnic and social diversity. Some local historic landmarks also remain, including 19th century buildings and sites.
One of them is the Chelsea Market, located in the lower part of his neighborhood, between 15th and 16th Street, and Ninth and Tenth Avenue. Before it became an indoor shopping and food mall, the building housed the National Biscuit Company, maker of the Oreo cookies.
The company eventually left New York City, but the ground floor of the building, was later redesigned into an arcade brimming with food stores and restaurants.
And, if you are looking for live entertainment in the neighborhood, you can have your pick of several high-vibe haunts:
You don't have to have a defiant streak to enjoy Rebel, Chelsea's dance, lounge, and live music venue at 251 West 30th Street.
Even if you don't remember (or had no chance to experience) hot sounds of Havana in the 1950s, you can relive them at Son Cubano at 44 West 27th Street –so "real," you'd never know you were in Chelsea!
For a multi-disciplinary feel of the artistic input from the media, literature, and performing arts, head to The Kitchen at 12 West 19th Street. No cooking required, just a curious mind!
Let's strum, drum, blow, or hit the keys together!
As you can see, Chelsea has a lot to offer! If you are looking for Manhattan music lessons, we are here for you!
Hey Joe Guitar teaches all kinds of instruments to people of all levels and ages in this neighborhood, and we'll be happy to come to your Chelsea home or office as well.
Call us – whether you need us during the Chelsea morning, afternoon or evening – as long as your neighbors won't mind!
 ***