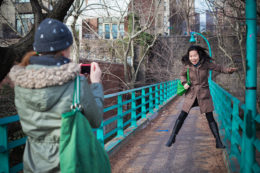 In NYC's Midtown East neighborhood, our music school goes hand-in-hand with your instrument, so let's play well together!
If we had to describe the Midtown East section of Manhattan succinctly, we'd say it's a quieter version of the adjacent neighborhood lying to the west. There is less of a hectic activity going on here, on the eastern side of Fifth Avenue, than the high energy emanating from Midtown West. And that's a great thing about NYC – neighboring areas generate a totally different buzz and yet they are all part of the same city. Talk about diversity! The house Cornelius built (and other landmarks) Midtown East stretches from 42nd to 59th Street, and from Fifth Avenue to the East River. While it is a section of its own, it also comprises several smaller, mostly residential "sub-neighborhoods" like Tudor City, Sutton Place, Murray Hill, Kips Bay, and Turtle Bay. By the sound of their names, you'd imagine quiet, laid-back towns rather than a bustling city that surrounds them.
As we mentioned before, Midtown East in no match for its west-side neighbor in terms of the vibe, but it is home to some of NYC's best-known architectural landmarks. Along 42nd Street and Park Avenue is one of the most opulent railroad stations in the United States. The Grand Central Terminal is worth mentioning not only because 750,000 people pass through this site every day, but also because of its history. It was built at the end of the 19th century for Cornelius Vanderbilt's expanding railroad network. Reflecting the fashion of the day, it was constructed in the Beaux Arts style. Exquisite features such as the four-sided brass clock, and the circular marble and brass pagoda make this building an interesting architectural landmark. In the 1960s, there was talk of razing the station but, after much debate and controversy, concerned New Yorkers, including Jacqueline Kennedy Onassis, saved the building from the wrecking ball. Another notable Midtown East landmark is the Chrysler building, at 405 Lexington Avenue. This 77-story skyscraper, constructed in 1930, was for a short time the tallest building in New York, until Empire State Building stole the thunder a year later with its 102 floors. Still, with the Art Deco style and stainless steel exterior, the Chrysler Building remains to this day a prominent part of the NYC's skyline. And let's not forget St. Patrick's Cathedral, located at 460 Madison Avenue. The church opened in 1879 and is still a well-known New York landmark, visited by more than 5.5 million people each year. It is interesting to see how the neo-Gothic church is flanked on both sides by tall, modern buildings – the eclectic blend of the old and new styles that cohabit harmoniously on the same sidewalk. It's in the pocket! When people think of New York, they conjure up images of gigantic buildings and huge, open spaces, like Central Park. But the Midtown East district is just the opposite. In line with the idea that "less is more," several parks in this part of Manhattan were created on small pieces of land – the minuscule (by urban standards) size that justifies their name, "vest pocket parks." Greenacre Park at 53rd Street and Lexington Avenue measures only 60 by 120 feet, but with its well-designed multi-level sitting, a waterfall, shady areas, and an outdoor café, this space provides respite and relaxation. Another green oasis in this neighborhood is the Paley Park, the 4,200 square feet space located nearby, at 3 East 53rd Street. Like Greenacre, it also has a waterfall and seating under the trees. Both these "vest pocket parks" prove that a quiet and relaxing oasis can be found even in the urban jungle! We'll come to you We at Hey Joe Guitar love all kinds of New York neighborhoods: east, west, uptown or downtown – we feel at home wherever we go. And we do get around! Our music school is mobile, so we go wherever in Manhattan our customers work or live. Is your home or office in Midtown East? That's not a problem: we will come to you and teach you to play an instrument of your choice.
***