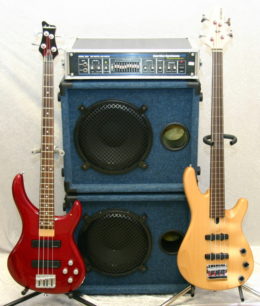 In fact, you can also strum or pluck it – though not like a chicken! Electric bass is another name for the bass guitar, a member of the string family along with the "regular" guitar. Like other strings, the bass's body is made out of wood. However, it is not identical to the classical guitar: it is longer and has a different tone and scale, producing a lower sound. In the words of comedian Dan Aykroyd (which, of course, should not be taken literally), the bass sounds like "a screaming guitar."
But – as you will see in a minute – in the expert hands of rock, swing, funk, jazz, blues, and country musicians, this instrument's pitch may be an octave lower than a regular guitar, but it certainly sounds nothing like a scream!
Once upon a time…
The history of the bass guitar can be traced back to the beginnings of electronics and amplification in the 1930s. That's when a Settle inventor Paul Tutmarc created the modern version of the electric bass. The first models were big and fretless, but later smaller fretted basses that could be played horizontally were produced. It became easier for bass players to transport and handle their instruments, but Tutmarc's models never quite caught on. Electric bass experienced a revival of sorts in the 1950s. That's when famed manufacturer Leo Fender brought his pioneering model, Fender Precision Bass, to the market. It remains, to this day, among the top selling and most imitated bass guitars.
Slick moves
As we mentioned before, electric bass is very popular among many musicians. Paul McCartney played it beautifully , as did The Who's John Entwistle , Rolling Stones' Ron Wood , Led Zeppelin's John Paul Jones , and many other talented bassists, too numerous to mention here. But if you thought that the electric bass is the exclusive domain of male guitarists, think again. There are, in fact, quite a few female musicians who excel at playing this instrument. They may not be household names, but they are clearly gifted. Among them: D'Arcy Wretzky, one of the original members of the Smashing Pumpkins , Gail Ann Dorsey , who accompanied the late David Bowie, Meshell Ndegeocello , and many others. If you want to learn to play this cool instrument, you can follow Paul McCartney's tutorial . But, let's be real, the chance that Sir Paul himself will come to your house to teach you the correct bass guitar playing technique is slim to none. On the other hand, our teachers do offer excellent in-home music lessons – so pick us!