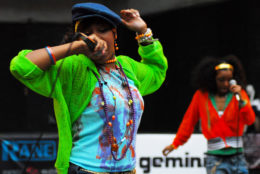 Looking for NYC music lessons in Harlem? We'll come to you!
Say what you will about Harlem's reputation as dangerous and squalid, but this neighborhood is no longer the symbol of urban decay. If it were, would a former president of the United States open his offices there?
In 2001, when Bill Clinton headquartered his Foundation at 55 West 125th Street, this is how he explained his choice of the location: "Harlem always struck me as a place that was human and alive, where there was a rhythm to life and a song in the heart, where no matter how bad it was, people held up their heads and went on, and where, when things got good, people were grateful and cared about their neighbors."
That's the kind of Harlem its residents are proud of: one of the most important historic centers of African American culture and arts. It is home to 12 colleges – including the prestigious Columbia University – 14 museums, and numerous music venues.
To say that Harlem has a very distinct vibe of its own would be an understatement: from a once downtrodden area, it has morphed into one of NYC's most vibrant neighborhoods.
Harlem globetrotters
In the mid-17th century, Dutch settlers named this part of upper Manhattan, located between 110th and 135th Streets, Nieuw Harlem, after the city of Harlem in the Netherlands.
In those early days, this area was a farming community, which had become, by the beginning of the 18th century, an upper-middle-class suburb of NYC. Eventually, however, the land became barren and the residents started to abandon their properties. Irish immigrants began to squat in the neighborhood, turning the desolate area into a shantytown.
However, like the mythical phoenix bird rising from the ashes, Harlem experienced a remarkable revival, sparked by scores of talented and creative people who settled here at the dawn of the 20th century.
Great expectations
Modern Harlem's history of transformation from a slum to a vibrant multicultural area it is today began in the early 1900s, with the influx of African Americans from the southern states. Freed from slavery only decades earlier, they started to move north, with many of them settling in Harlem. People of African – Caribbean descent also flocked to this part of Manhattan. Together, these new arrivals laid foundation for a phenomenon that became known as the "Harlem Renaissance."
During this period in the 1920s and 30s, Harlem saw a veritable explosion of music and other artistic expressions.  Jazz, blues, swing, big band, and spirituals had their heyday, launching the careers of singers and musicians who would become world famous, among them Billie Holiday, Ella Fitzgerald, and Sarah Vaughan, Louis Armstrong, Count Basie, Duke Ellington, Billie Holiday, and countless others.
Their careers were often launched at venues that have survived to this day and are now considered to be a legendary part of Harlem's history.
Harlem nights
It's impossible to talk about the neighborhood's music scene, past and present, without mentioning the Apollo Theater at 253 West 125th Street, one of the most famous music halls not only in NYC, but also in the whole of the United States.
In addition to the above-mentioned performers, this landmark launched the careers of other vocalists and musicians as well: Diana Ross & The Supremes, Gladys Knight & the Pips, Jackson 5, Marvin Gaye, Patti LaBelle, Stevie Wonder, Luther Vandross, and many others. In 1964, Jimi Hendrix won the first place prize in an Amateur Night, an Apollo tradition that is still thriving today.
And let's not forget the Cotton Club, another legendary Harlem music venue at 656 West 125th Street. Actually, its early years in the 1920s were not exactly boastful, at least by today's standards. Reflecting the mores and practices of that era, the club was segregated – only white patrons could come to the establishment, where they were entertained by black artists.
But despite this shameful past, the Cotton Club has become a true Harlem tradition. Through performances by – among other renowned entertainers of the day – Duke Ellington, Cab Calloway, Count Basie, Billie Holiday, Nat King Cole, Ella Fitzgerald, and Josephine Baker, the club has been an important part of our country's jazz history.
Today, the Cotton Club is still a great live music haunt open to all, where you can listen to jazz, blues, swing and gospel.
Let's play together!
We at Hey Joe Guitar agree with President Clinton: Harlem definitely has "a rhythm to life and a song in the heart." That is why we are happy to offer music lessons in this NYC neighborhood, which vibrates with so many different sounds.
Whatever instrument you'd like to learn, we will come to your Harlem home or office – or any other Manhattan neighborhood, for that matter – and teach you.
***