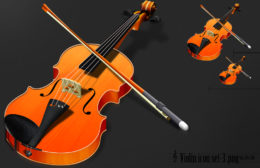 Learn to pull the strings – with Manhattan Violin School
December is filled with numerous festivities. But some of these events have nothing to do with the holiday season, and everything to do with beautiful music. We are talking about the National Violin Day, which is celebrated every year on December 13. (Interestingly enough, Dec. 13 also marks the National Cocoa Day and the National Day of the Horse – but while we like both cocoa and horses, we are focusing solely on the violin here!)

We don't really know how or when the idea for a day dedicated to the violin began, but we are glad it did. Such a smooth and graceful string instrument capable of making sweet, mellow, and passionate music surely deserves to be celebrated!
From the 16th century Italy, where the first "vitula" (as this instrument was then called) was created, to the present day, the violin has been the smallest, highest-pitched member of the string family, which also includes the viola and cello.
For big or small, a great fit!
"A sandwich and a cup of coffee, and then off to violin-land, where all is sweetness and delicacy and harmony." ― Arthur Conan Doyle, The Adventures of Sherlock Holmes
The famous detective was a violin player and often performed for his sidekick, Dr. Watson. But many famous (non-fictional) people were fiddlers as well: presidents Thomas Jefferson and Woodrow Wilson, physicist Albert Einstein, and actress Marlena Dietrich, among many others.
They may or may not have realized it, but aside from the beautiful music, playing the violin offers several other advantages: increased arm strength and flexibility, improved posture, as well as better coordination and motor skills.
However, you don't have to be big and strong to love the violin. Because of its size, it is one of the most popular string instruments for children – certainly easier to handle for small hands than a huge and heavy instrument.
The ease with which kids "take to" the violin is demonstrated by these child prodigies: a 7-year-old and an 11-year-old who are, despite their young age, true virtuosos.
Let's fiddle together!
Obviously, this kind of proficiency doesn't just happen overnight. As with every endeavor – musical or otherwise – achieving success requires practice and patience. When it comes to mastering the violin (or any other instrument for that matter) you or your child can benefit from the guidance of an excellent music teacher.
An instructor will come to your Manhattan, Brooklyn or Riverdale home or office for a private lesson. And while learning to play the violin is certainly a great idea, we also offer guitar and piano lessons, as well as many other instruments.
So this December 13 celebrate the violin – and, if you want, the cocoa and the horse as well!
Photo by unknown, available under Creative Commons License