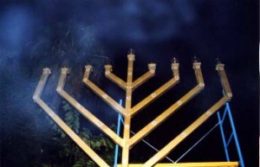 Celebrate The Festival of Lights: Manhattan Guitar School Tells You Where
Looking at all the lights and decorations, you might think that the holiday season is only about Christmas. Yes, Christmas is a huge part of all the celebrations, but let's not forget about Hanukkah, which this year falls between December 16 and 24.

There are plenty of events and festivities in New York celebrating the Festival of Lights, as Hanukkah is called – and not just all the delicious, crispy latkes served in restaurants around the city.
Let's have a look at what interesting, family-oriented Hanukkah activities you can enjoy.
Dress warmly!
The world's largest menorah is located right here in NYC, at Grand Army Plaza (Fifth Avenue and West 59th Street, across the street from The Plaza hotel). And it really is huge – 32 feet tall and 4,000 lbs. Made of gold-tinted steel and protected from the wind by specially designed glass chimneys, it is a truly impressive sight.
On each of the eight days of Hanukkah, the menorah's oil lamps are lit at 5:30 pm. The only exception is before and after the Sabbath – on Friday the lighting takes place at 3:45pm, and at 8:30pm on Saturday.
Since Hanukkah commemorates, symbolically at least, the triumph of light over darkness (the rededication of the Jewish temple in Jerusalem in the 2nd century BC), it is not a somber holiday. That's why the lighting of NYC's gigantic menorah is a joyful celebration, which includes live music, folk dancing, and, of course, great food: latkes and sweet sufganiyot jelly donuts, among other delicious offerings.
Another fun outdoor activity for the whole family is the traditional "Hanukkah on Ice" skating party on December 16 from 6 to 9 pm at Wollman Rink in Central Park. There will be music, food, and the lighting of a giant ice menorah.
More festivities…
What else is there to do during the Festival of Lights? If you prefer indoor activities, the Jewish Museum is organizing, on December 14 from noon until 4 pm, the Hanukkah Family Day for children 3 years of age and up. Participants can make a Hanukkah menorah from wacky objects (a Jewish Museum tradition), dance, sing, watch the Hanukkah story, and explore the Museum's world-famous collection of Hanukkah lamps.
There's more: the National Yiddish Theater is putting on two free Hanukkah concerts, on December 14 and 17, which will feature holiday music, including traditional "klezmer" tunes, which are usually played during joyful celebrations.
Celebrate with music!
The above is just a quick glimpse of Hanukkah events around New York City, but there are many more interesting things going on.
All the concerts and performances will hopefully inspire you and / or your child to start making some music of your own. Your first step will be to choose an instrument – guitar, piano, violin, or whatever else "speaks" to you – and to find an experienced teacher who will come to your Manhattan, Brooklyn or Riverdale home or office and give you lessons. Please contact us so we can get started!
The year may be almost over, but your exciting musical journey is just beginning!
Photo by unknown, available under Creative Commons License