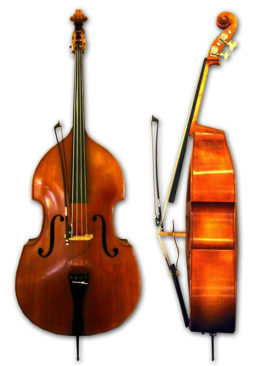 Learn to Play the Upright Bass – at Brooklyn Music School
First things first: the upright bass is NOT a vertical violin or a cello. And – need we even say it – it is NOT a fish that somehow manages to stand up on its tail!
In fact, there is absolutely nothing "fishy" about this instrument, even if it has many aliases: the double bass, string bass, bass fiddle, contrabass, bass viol, or stand-up bass. By whatever name you choose to call it, the upright bass (pronounced "base") lends its "voice" to many kinds of music genres and has the distinction of being the largest and the lowest-sounding instrument in an orchestra's string section, adding deepness and richness to the beautiful cacophony of sounds. Although the upright bass is mostly a "background" instrument, it certainly plays well with others!
A giant among strings
If you've never seen an upright bass, you might be surprised that it stands six feet tall. Not quite tall enough for the NBA, but certainly taller than a lot of people (and instruments). As a matter of fact, when Elvis Presley was just starting out and playing gigs in various towns, his bassist used to attach this instrument to the roof of their car – not something we would recommend! By the way, you don't have to play the double bass standing up – just because it is upright doesn't mean you have to be. Some bassists sit on stools – whatever works best. We are not sure who invented the upright bass or when; some historical accounts claim it was a violin maker Gasparo di Salo in 1580, while others attribute it to another Italian, double bass virtuoso and composer, Domenico Dragonetti, at the end of the 18th century. One fact that is not in dispute is that early versions of this instrument typically had five or six strings; later on, three-stringed basses were in use. (Today, four strings are the norm). One of the most prominent bassists of the 19th century was Italian composer and conductor Giovanni Bottesini. Apparently, his big double bass became a laughing stock of other musicians, but Bottesini found a way to put an end to the mockery. As he wrote in 1877: "When their derision became too much to bear, I dispatched one of them with my bow and boggled the others with my technical proficiency." Maybe he should have just told them that his instrument was larger than theirs, and could beat up all the other strings! Usually, however, all the strings get along well in an orchestra, making a truly beautiful music together.
A versatile instrument
More than 200 concertos have been written for the upright bass, and it was also featured in many passages – Gustav Mahler's Symphony No. 1 in D Major, Igor Stravinsky's ballet Pulcinella , and Benjamin Britten's opera A Midsummer Night's Dream, among others. However, the upright bass is versatile enough to be used in various genres of music, besides the classical one. They fit in well in chamber ensembles, rock and roll and jazz bands, as well as rhythm and blues. Jimmy Hendrix, Paul McCartney, Ringo Starr, Cat Stevens and Sting are among the musicians who played the bass at one time or another. As jazz musician and double bassist Charlie Haden noted, "No matter what kind of music you're playing, the bass enhances the sound and makes it more beautiful and full."
Stand up to the challenge!
Do you want to learn to play an upright bass but are unsure whether you are tall enough? When it comes to this instrument, the size does matter, but don't worry- there are four sizes to choose from: 1/4 size – It measures 37.4 inches and is recommended for children. 1/2 size – 40.2 inches tall, and suitable for older children or adults who don't exceed five feet four inches in height. 3/4 size – It measures 43.7 inches and is most commonly used by musicians. 4/4 size – At 45.7 inches it is the largest but very few musicians can play it (who knows, you may be the exception!) Whether you choose an upright bass or any other instrument, one of our excellent teachers will be happy to come to your Manhattan, Brooklyn or Riverdale home or office and give you lessons. And if you are concerned that you will be laughed out of the music community, follow Giovanni Bottesini's example: dazzle them with your technical proficiency!