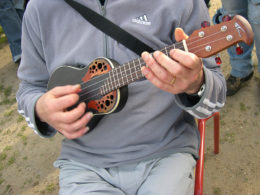 The Sweet Sounds of the Uke, Right Here at Manhattan Music School
There are not many musical instruments out there whose names are as difficult to pronounce as "ukulele." So before you start learning to play it, practice to say: "U-K-U-L-E-L-E." Although the name might be somewhat of a tongue twister (perhaps because it comes from the Hawaiian language), ukulele is easy to play, tune, and handle.
But the simplicity of this small stringed instrument doesn't mean that it has not been appreciated by professional musicians and performers: The Beatles' Paul McCartney and George Harrison were ukulele aficionados, as well as Arthur Godfrey, Eric Clapton, Eddie Vedder of Pearl Jam – who recorded an album called "Ukulele Songs" , Tiny Tim and (not surprisingly), Don Ho, among many others. However, you don't have to tiptoe through the tulips or dance hula to get the most out of your ukulele.
Aloha, Hawaii!
As we said, ukulele came to the mainland from Hawaii, where its predecessor, a small guitar-like instrument known as "braguinha" or "cavaquinho" made its first appearance in 1879, brought over by Portuguese sailors. It was soon modified to resemble the modern-day ukulele, reaching popularity in the United States at the beginning of the 20th century. As a matter of fact, because of its portability, it was often used at the height of Jazz Age, when ukulele chord tablature started to be included into the sheet music for that era's most popular songs. Given the instrument's origin, it is perhaps not a coincidence that the most prominent ukulele musicians of the 20th century hailed from Hawaii: Ernest Ka'ai, the first Hawaiian-born virtuoso ukulele player; Bill Tapia, the innovator of " ukulele jazz " Jake Shimabukuro, "Hendrix of ukulele;" and Israel Kamakawiwo'ole, known for his beautiful ukulele rendition of "Somewhere Over the Rainbow."
Identity crisis?
Okay, so we may be a bit dramatic here, so let us explain: quite often, non-musicians mistake the ukulele for a miniature (or a child's) version of a guitar. The two instruments do look alike, but they are not the same. What distinguishes one from the other? Ukulele has less range than a guitar. It is not played with a pick. It emits a totally different sound – higher and sharper. It is cheaper than a guitar in all sizes – starter, midrange, and professional. It is easier to learn for a novice musician because the ukulele has four strings (to the guitar's six) and, therefore, has fewer notes to remember. Ukulele has only nylon strings, whereas the guitar sometimes comes with steel ones. Hey, we are not dissuading you from learning to play the mighty guitar (that would be like shooting ourselves in the foot), but we just want to point out that a ukulele has lots of merits and charm of its own.
Start strumming!
Need another compelling reason to pick up a ukulele? Warren Buffet plays one! No, we can't guarantee that mastering the ukulele will put you on the Forbes list of world's richest people, but look at the bright side: you don't have to be a billionaire (or a millionaire, for that matter), to start playing. In fact, the ukulele is quite affordable – several models are priced for less than $200. Are you ready to start learning? No problem, we will come to your Manhattan, Brooklyn, or Riverdale home or office and give you lessons (as we do for many other instruments). By the way, going back to the instrument's quirky name: in Hawaiian, "ukulele" means "a jumping flea," reportedly because the fast-moving fingers on the strings reminded Hawaiians of the leaping insect. (Don't ask us why!) Whether you associate the ukulele with the jumping fleas or beautiful music it makes, contact us so we can get started. And that's one message that is not lost in translation!