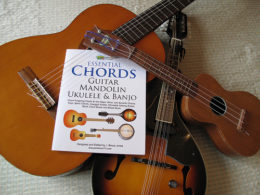 With Manhattan music school, all string instruments are at your fingertips
What do the slide guitar, mandolin, and banjo have in common? Yes, you guessed it – they all fall under the category of string instruments. But also, all of them are multi-functional: they are used in bluegrass, country, blues, and jazz music.
There is another common denominator for all these instruments, but we will not divulge it just yet. To find out what it is, just keep on reading!

The guitar…by any other name
Let's start with the slide guitar. No, it's not a totally different species of the "regular" guitar or the kind that you slide on ice like the rock in the sport of curling (as a matter of fact, we advise you NOT to use your guitar in this way!).
Simply put, it is a technique of playing the guitar, where a musician slides a hard object, like a bottleneck or steel tube, across strings and along the fingerboard to produce a smooth, high-pitched, "blues-y" sound
And, some slide guitars are not held in the way we normally think of when we picture conventional guitarists. For example, the lap steel model is typically placed on the player's lap (hence the name).
Like the idea of the slide guitar? The good news is you don't actually have to go out and buy a brand new instrument; any "regular" guitar can be used as a slide by raising the action and retuning the instrument. For instance, Keith Richards of the Rolling Stones would retune to a G chord and Elvin Bishop would use a slide on a regular guitar.
Other prominent musicians who played the slide guitar include John Lennon, Paul McCartney, Neil Young, Bonnie Raitt, as well as bands like The Allman Brothers and Led Zeppelin.
"Wind" or "rain" – it's the mandolin!
A small, short-necked lute with eight strings, the mandolin's origins go back to pre-history. Cave paintings found in the grottos of France, which date back to between 15,000 and 8,000 years ago, depict a man playing what appears to be a small, short-necked, eight-string lute, which historians believe evolved over the centuries into the modern-day mandolin.
Though perhaps not as popular as the guitar, the mandolin has nevertheless had many aficionados, and songs have even been written about it – "Mandolin Wind" by Rod Stewart and "Mandolin Rain" by Bruce Hornsby are just two examples.
One the musicians most closely associated with the mandolin was Bill Monroe , who created the genre of music known as bluegrass, named after his band, the "Blue Grass Boys," which, in turn, was named after Monroe's home state of Kentucky.
In fact, the mandolin's tremolo sound that is both sweet and fiery fits well not only with bluegrass, but also with country and even rock music.
Is it a drum or strings?
Fact is, the banjo is a bit of both – the drum with the strings. A blend of African and European sounds and musical traditions, this instrument has influenced many American music styles that emerged in the 19th century: the minstrel show, ragtime and early jazz.
Since then, the banjo has become a prominent fixture in blues, bluegrass, and country, which goes to prove that this instrument has shaped many music styles that we think of as uniquely "American."
Folk singer Pete Seeger and rocker Jerry Garcia were banjo enthusiasts: in fact, the banjo was reportedly the first instrument Garcia remembered how to play when he came out of a diabetic coma in 1986.
String along with us!
At the beginning, we promised to reveal another common trait that the slide guitar, the mandolin, and the banjo share. So, here it is –let's have some drum action here – with our Manhattan, Brooklyn, and Riverdale in home music lessons, you can learn all of them.
Whichever of these three instruments you'd like to master, we'll be happy to come to your home or office and teach you.
And, if any other instrument strikes your fancy just let us know – we at Hey Joe Guitar have more than one string to our fiddle!
Photo by Bruce Jones