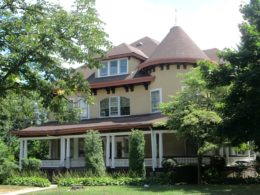 What distinguishes Brooklyn's Ditmas Park from other NYC neighborhoods?
For one, this almost exclusively residential district doesn't feel like part of New York at all. It is sleepy, tranquil, and bursting with vibrant colors of its stately 19th century mansions. In fact, when you walk around this neighborhood, you may feel magically transported to another time period.
This may be why Ditmas Park, which is bordered by Dorchester Avenue, Ocean Avenue, Newkirk Avenue and East 16th Street, is referred to as Victorian Flatbush.
Let's explore this neighborhood, which can rightly be described as charming and quaint.
Notable Architecture
The area now occupied by Ditmas Park was settled in the 17th century by a Dutch immigrant Jan Jansen Van Ditmarsen (for whom the neighborhood was named). According to historical records, upon his arrival he built a "fine Dutch Colonial style farmhouse."
The land remained in the Ditmarsen family until the beginning of the 20th century, when a real estate broker Lewis H. Pounds purchased it.
As he developed the formerly rural area, Pounds deployed several different architectural styles to bring an eclectic rather than uniform look to the area: there are Colonial Revival and Queen Anne buildings, Arts and Crafts bungalows, wood-frame houses with wide-open porches, and other styles.
Best places to see these architectural gems are along Albemarle, Marlborough, Rugby, Argyle, Westminster, and Beverly Roads. This is "old" Ditmas Park at its best.
Let There Be Music (Lessons)!
But not everything in this neighborhood is a throwback to another era.
For instance, the 40-acre Parade Ground offers more modern amenities, including baseball, soccer, softball and football fields, as well as running and cycling paths.
And even though Ditmas Park is mostly residential, there are some good eateries along Cortelyou Road – the Farm on Adderley and Mimi's Hummus, among them.
Brooklyn Botanic Garden is nearby, as is Prospect Park and other interesting venues and activities.
It's true that, because of its homespun character, Ditmas Park may not have a vibrant arts scene. But good news is that there is no shortage of in-home music lessons in this attractive, down-to-earth neighborhood.