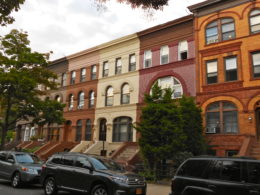 The name Boerum Hill may suggest that this part of Brooklyn lies (just like its neighbor, Cobble Hill) at a certain altitude. This isn't the case; there aren't any peaks or valleys in this neighborhood. It is flat, but it's certainly not boring.
In fact, it has a lot going for it. For instance, its impressive architecture, including tracts of 19th century row houses ranging in style from Greek Revival to Queen Anne, are reminders of the area's history as a fashionable Manhattan suburb.
These well-preserved brownstones, most of which are three-bay, three-story buildings, date from between 1845 and 1890.
These gems are not difficult to spot in the small neighborhood, which is only about seven blocks long and eight blocks wide. A stroll along Dean Street is a journey back to the 19th century. The row houses that stand there are designed in Italianate style, with large arches, ornate cast-iron railings, and other elaborate architectural details.
But before it had become an elegant and genteel neighborhood in the second half of the 1800s, Boerum Hill looked quite different.
It All started with a Farm…
Today, Boerum Hill's boundaries are defined as Court Street to the west, Fourth Avenue to the east, Schermerhorn Street to the north, and Warren and Wyckoff Streets to the south.
Lying just south of Downtown Brooklyn, this area is both urban and residential, but back in the Colonial times it was a farm settled, as much of New York was, by the Dutch. The family's name was Boerum, which explains how the neighborhood got its name.
As Manhattan continued to grow and develop in the aftermath of the Industrial Revolution, Boerum Hill retained its small-town feel, attracting Italian and French immigrants who gave this area a distinctly cosmopolitan feel that stretches to its sister neighborhoods of Cobble Hill and Carroll Gardens.
Never a Dull Moment
As mentioned above, Boerum Hill is not boring at all. For outdoor activities, there is the green expanse of waterfront Brooklyn Bridge Park, which offers organized activities, including guided tours, kayak polo, and zumba classes.
And Barclays Center at 620 Atlantic Avenue has a multitude of sports events and music concerts. In-home music lessons are also available in Boerum Hill – it's easy to get started.
As you can see, there are many reasons to love Boerum Hill!