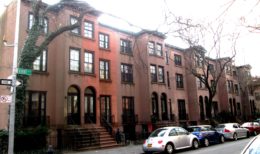 If you like looking at maps, the first thing you'll notice about Cobble Hill is that it forms a nearly perfect rectangle around 22 blocks in the western part of Brooklyn.
Bounded by Atlantic Avenue to the north, Court Street to the east, Degraw Street to the south, and the Brooklyn-Queens Expressway to the west, Cobble Hill is one of Brooklyn's oldest neighborhoods.
It is also one of its quaintest, which, according to the National Register of Historic Places, "retains an aura of the past with its charming streets and architecture."
In fact, the Cobble Hill Historic District teems with beautifully preserved landmarks. Among them is the Old St. Paul's Roman Catholic Church at 14 Greenville Avenue, which dates back to 1838; and seven brick row houses at 33 and 35 Strong Place, built in the Queen Anne architectural style in 1891.
From Rural to Urban
Up until the middle of the 1800s, Brooklyn was primarily a rural area. The present-day Cobble Hill had only 45 houses and 112 residents. It started expanding (and getting more urbanized) in the latter part of the 19th century, first with the influx of wealthy Manhattanites, followed by immigrants from Ireland and Italy, many of whom settled in neighboring areas of Brooklyn as well.
In that sense, Cobble Hill has a cosmopolitan vibe that is characteristic of many of New York's "melting pot" neighborhoods. And, like elsewhere in the city, there is no shortage here of excellent restaurants and ethnic food stores.
Lots To Do
Whether you are trendy and hip, or quiet and laid-back, you will find that Cobble Hill is – no pun intended – right up your alley. And if you are looking for arts and culture, you will discover it here as well. For instance, there are a number of quaint, independent bookshops in the neighborhood, which are a fast-dying breed. So venues like BookCourt at 163 Court Street and the nearby Community Book Store (212 Court Street) need the support of every reader. What about the music scene? There are quite a few places along Smith Street that feature live music: Pano e Vino, Bar Tabac, Clover Club, and other venues. And would you like to have live music right in your own house? You can: in-home music lessons are available in Cobble Hill, as well as in other Brooklyn neighborhoods like Dumbo, Williamsburg, Brooklyn Heights, Park Slope, Carroll Gardens, Boerum Hill, and Ditmas Park.