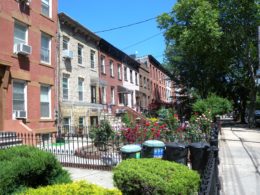 Did You Know That Brooklyn has its Very Own, Beautiful "Garden District?"
There is a good reason why its name is Carroll Gardens: the neighborhood's main features are deep front yards, often surrounded by decorative wrought iron fences.
This explains the "garden" part. But why Carroll, you may ask?
Until 1964, this 40-block neighborhood, was just part of South Brooklyn. But then a local civic group renamed the area in honor of Charles Carroll, who was a signer of Declaration of Independence, as well as a civil rights activist.
Carroll was the U.S. senator from Maryland, but he did have a strong connection to the NYC borough. In 1776, during the Battle of Brooklyn, Carroll's regiment helped defend this area; in fact, 400 of his soldiers died in an attack on a British camp.
Fortunately, this was the only bloody episode in the history of this quiet and scenic neighborhood.
A "Revolutionary" Neighborhood
Carroll Gardens is bounded by Degraw and Warren Streets to the north, Hoyt and Smith Streets to the east, Ninth Street to the south, and the Brooklyn-Queens and Gowanus Expressways to the west.
As mentioned above, during the Revolutionary War, this area was a site of a bloody battle. Then, in the early 1800s, many wealthy New Yorkers built summer homes here.
But the 19th century also brought European immigrants to South Brooklyn's shores – the Irish were the first ones to settle in the area that is today called Carroll Gardens.
Later, Italians arrived, infusing the area with their native foods, customs, and traditions – the ambience that permeates the neighborhood to this day.
But there are traces of other ethnicities in Carroll Gardens as well – for instance, its flourishing French population has earned this section of Brooklyn the nickname "Little France."
Both Italian and French influence is still present in Carroll Gardens in the form of restaurants, grocery stores, and other venues and events.
Arts and Crafts
So what is there to do in Carroll Gardens, other than admire beautiful gardens in front of quaint brownstones along quiet, tree-lined streets?
As far as arts scene is concerned, the neighborhood boasts the Smith Street Stage, a community theater dedicated to Shakespeare plays.
There are also jazz nights at Clover Club at 210 Smith Street, pottery and glassware workshop at the Painted Pot, 8009 Third Avenue, and many other cool events for children and adults alike.
And let's not forget in-home music lessons that are available year-round in this cozy part of Brooklyn.