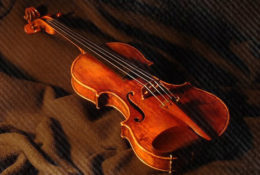 Even if you know a lot about music, chances are you have never heard of a 93-year-old Holocaust survivor named Joe Feingold.
That's because until last year, Feingold was not a well known figure, except perhaps to a NYC teenager Brianna Perez, who attends a music program at the Bronx Global Learning Institute for Girls.
What brought the unlikely pair together is an old violin. That's right – an old violin!
A Gift of Music
The inspiring story starts just after WWII, in the displaced persons camp in Germany, where Joe found himself after his mother and brother were killed in a concentration camp.
Before the war, while living in Warsaw, Poland, Joe played the violin. But his beloved instrument was lost. He missed it a lot.
While waiting to be resettled from the camp to the United States, Joe traded a carton of American cigarettes for a violin, which he brought with him when he was finally able to move to America. He lived on the Upper West Side and worked as an architect.
All the while, he continued to play the violin, but eventually it became too difficult for his aging hands.
One day in 2014, Feingold heard about an instrument drive managed by the Mr. Holland's Opus Foundation, which distributes donated instruments to NYC public schools.
He took his cherished violin to the Lincoln Center to drop it off, hoping it would come to life again.
A Musical Bond
The story could have ended there, but it didn't. When filmmaker Kahane Cooperman heard an interview with Joe on a local radio station, she wanted to find out which student would be practicing on Joe's violin. So she traced the instrument to Brianna, who was 13 years old at the time.
Joe went to the school to hear Brianna play "his" instrument and was very moved by her performance.
This experience inspired Kahane to make a documentary film about the unlikely musical bond between the nonagenarian and the Bronx teen. Appropriately titled "Joe's Violin," the film premiered at Tribeca Film Festival last year.
And in February of this year, the movie was nominated for an Academy Award for the best documentary short subject.
We are glad to share this touching story with you — even more so, because March is the Music in Our Schools Month, which sheds light on the numerous benefits of music programs.
What better example can there be to celebrate this event than to know how one instrument can change the lives of many students? We say "many" because after Brianna graduates, the violin will pass on to another student, and so on.
It's the circle of life!