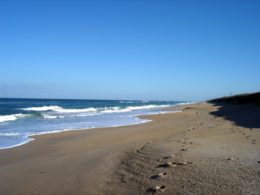 With Brooklyn Music Lessons You Can Be a Beach Bunny – Right in Your Home!
Last month, just as the official summer season was starting, we wrote about all the wonderful beaches along the New York City coastline. Now that summer is here in earnest, our thoughts (and hopefully yours as well) are turning to images of sun-soaked sandy beaches and sounds of ocean waves crashing against the shore.
That's because for so many of us, a beach represents an escape from the stresses of our often-hectic urban lives. In fact, a study carried out a few years ago at University of Exeter in Britain, showed that city dwellers' moods improved considerably when they spent time in a seaside environment. But really, do we need scientists to tell us that soaking up the warm sun and feeling soft sand between the toes is a mood-booster? We think not – this is one case where anecdotal evidence (in other words, our own experience) is the best guide.
Flip-flop moments
Whether you are actually at the beach or just dreaming about being by the seashore, you can enhance your experience with some beach-specific music. A group that jumps to mind is, of course, "The Beach Boys," who had not one or two, but several songs about the joys of the beach, starting with their mega-hit, "Surfin' USA." But that's not all; there is also "Surfer Girl," and "Surfin' Safari" (are you seeing a prevailing theme here?) However, our all-time favorite, ultimate beach song the prolific group recorded is "Kokomo." It has that special vibe that makes you want to dance right there on the sand! What are some of the other quintessential beach songs? There is "The Beach Blanket Bingo," which reminds us of those innocent days when teenagers didn't just text or play games on their cell phones all day. And what about The Righteous Brothers' "Ebb Tide" or "King of the Beach" by the appropriately named Wavves? There are many more beach-related songs; what is your favorite one?
Bring the beach into your home!
Would you like to get into the "sun 'n' sand" spirit, even if you are city-bound this summer? The best way to "bring" the soft sand and warm ocean breezes into your home is to play some of the above-mentioned music. Our teachers will come to your Manhattan, Brooklyn or Riverdale home or office to teach you or your child how to get those "beachy" sounds out of your guitar, piano, or any other instrument (or, if you are taking voice lessons, how to sing them). Any way you look at it, when it comes to summer music, our teachers are a breeze of fresh (ocean) air!
Photo by unknown, available under Creative Commons License