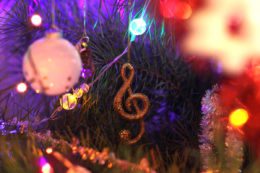 Lessons at Brooklyn Guitar School Are Better Than Front Teeth!
Christmas is less than two weeks away and the stores around New York City are full of shoppers looking for just the right gifts for family and friends. We love the traditional exchange of presents around the Christmas tree, or the unwrapping of packages left by Santa. We realize that most people these days (both adults and children) prefer big-ticket items that cost an arm and a leg – figuratively speaking, of course.
However, having said that, we are partial to gifts that are personal and symbolic – ones that have special meaning to you and the person who receives it. Such a present, no matter how small or inexpensive, is a wonderful gesture because it comes from the heart. It says to your loved one: "I chose this particular present because I knew you would enjoy it," instead of, "I had to idea what to buy you, so here's this tie. It doesn't matter to me whether you'll wear or or re-gift it; at least I didn't come empty-handed." Does this sound familiar?
A partridge in a pear tree…or two front teeth?
Actually, we are betting that nobody (okay, to be on the safe side, let's say very few people) want to receive either a partridge or a set of front teeth for Christmas – no matter what the songs say. So how do you choose a gift that is personal and specific rather than generic? It's easy: most people love to receive something that is useful to them. If they have a hobby or an interest, it makes it even easier to choose an appropriate gift. We don't mean to sound self-serving, but let's say your friend or family member is a music fan or musician. There are literally dozens of things you could offer them, ranging from tickets to one or more concerts that are scheduled to take place in New York in 2016, to some unique objects like a bracelet made from a recycled guitar string, vintage band posters, or any other of these cool items. It's the thought that counts!
Play it right!
Of course, among the best gifts for music lovers are music lessons. It doesn't matter whether the person is already playing an instrument or wants to start. In either case, we can help. First of all, you can't go wrong with our gift certificate. Whether you buy a 3 or 5-pack of lessons, or a monthly membership; a 30-minute, 45-minute, or hourly sessions, the gift card is a perfect present for any music aficionado. Secondly, once the music lesson is set up, we will send one of our amazing teachers to the student's Manhattan, Brooklyn or Riverdale residence. (He or she will ring the bell, not come down the chimney). Think about it: isn't a gift of music better than another tie, sweater, or scarf?
Photo by unknown, available under Creative Commons License