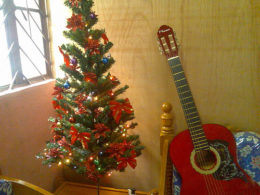 Do you hear what we hear? Listen and learn with New York City music school!
Chances are that wherever you go these days, you hear traditional Christmas carols. Yes, they are beautiful and, for many of us, bring memories of Christmases past. "Silent Night," "O Holy Night," "The Little Drummer Boy," and "Do You Hear What I Hear," are among the carols that usually carry the Yuletide season into the New Year.
We at Hey Joe Guitar love those songs too, but, let's be honest, sometimes we would like to hear something new – or, at least, something that is not as widely played as the traditional carols.
Do such songs exist? Yes they do! There are plenty of lesser-known tunes that beautifully express the true spirit of Christmas. We hope that, among the ones listed below, you will find some that will… strike a chord with you and your family.

Put on your listening ears
These are among our favorite not-so-well-known Christmas songs. Do you agree that they are worth listening to?
There is a Star that Shines Tonight – Sheryl Crow
Christmas Celebration – B.B. King
New Star Shining – Ricky Skaggs
Dear Santa Tim McGraw
Please Come Home for Christmas – The Eagles
Notice how this selection includes different genres, from jazz and blues to pop and country. So whatever kind of music you are partial to, chances are you will find exactly what you like!
Sounds from near and far
Speaking of lesser-known Christmas songs, have you ever wondered what traditional tunes are most popular in other countries? Of course, we all know the one from our south of the border neighbors, but how about these tunes from around the globe:
Yes, we know, the world is a vast place and the wealth of Christmas musical traditions is huge. Unfortunately, we can't include all of them here, but at least you have an opportunity to hear some of them.
All you want for Christmas: New York City Music School
Say your interest is piqued and you want to pursue music – Christmas and other. Nothing could be easier and more enjoyable than getting involved with our NYC music school
Whatever instrument you want to play – guitar, piano, drums, or anything else – (or whatever songs you would like to sing), our excellent teachers will come to your Manhattan, Brooklyn or Riverdale home or office to give you personalized music lessons.
Photo by rein