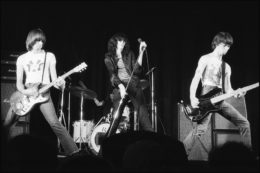 New York-Bred Music, At Manhattan Guitar School
Have you ever wondered where various genres of the so-called "American" music originated? Let's see: jazz and ragtime were born in New Orleans, while the country western style had its beginnings in Georgia. However, the South, although prolific, was not the only birthplace of American music. Our great city, New York, has a rich history of its own, and it is not limited merely to Broadway's musical theater. Since the beginning of the 20th century, the Big Apple has been an important center for many different musical genres and phenomena.
It all started with Tin Pan Alley, the hub for city's songwriters and music publishers from the late 19th century until the 1930s.
New York, New York
In the early 20th century, New York's lively song-publishing industry was centered on 28th Street between Fifth Avenue and Broadway. By the 1920s, it moved south and west – around Broadway and 32nd Street; ultimately, it ended up on Broadway between 42nd and 50th streets – not coincidentally, the area of the budding musical theater. The phrase "tin pan" – or so the story goes – referred to the sound of piano keys pounded by players demonstrating latest tunes – ballads, dance music, and vaudeville – to publishers. Quite a few of these "Tin Pan Alley" songs became American classics: Irving Berlin's "Alexander's Ragtime Band," "I Got Rhythm" by the Gershwin brothers, Jerome Kern and Oscar Hammerstein's "Ol'Man River," and Cole Porter's "Anything Goes," among many others. You can see why, in its own time, Tin Pan Alley was such a significant part of New York's musical and cultural history. And as the 20th century progressed, several genres sprang up right here in our city.
The birth of music
Originally, blues came from the Mississippi Delta at the end of the 1800s. Decades later, the New York blues emerged with a newer, more urban sound. From the 1940s to 1960s, musicians in Greenwich Village created a new style of American folk music rooted in political activism. Pete Seeger and Joan Baez were among the most outspoken New York-born folk singers of that era. In the 1970s, the downtown music scene saw the advent of punk rock with home-grown groups like New York Dolls and Ramones . At about the same time, at 1520 Sedgwick Avenue in the Bronx, hip-hop was born. According to PBS, "on August 11, 1973 DJ Kool Herc, a building resident, was entertaining at his sister's back-to-school party, and tried something new on the turntable: he extended an instrumental beat (breaking or scratching) to let people dance longer (break dancing) and began MC'ing (rapping) during the extended breakdancing." As you can see, New York City's musicians have played a significant role in the creation or expansion of various music genres.
New Yorkers unite!
At Hey Joe Guitar, we are proud to be a part of New York's cultural history. While we have not (to date) invented any new music genres, we can teach any kind of music, on any instrument. Our teachers are well versed not only in New York-born genres, but in all other styles as well – classical, jazz, rock, pop – if it has been invented, we can teach it. As soon as you contact us, we will send one of our amazing teachers to your Manhattan, Brooklyn, or Riverdale home or office. Maybe he or she will help you find your own sound – in New York, anything is possible!
Photo by unknown, available under Creative Commons License