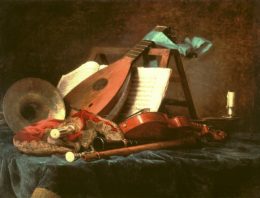 With Brooklyn Music Lessons, You Can Have More Than One String to Your Bow
Let's talk about multi-tasking. As you certainly know, this term means the performance of more than one activity by one person at the same time. Of course, multi-tasking is a vast subject, so let's narrow it down to just one area: music. More specifically, we'd like to talk here about those very talented individuals who play more than one musical instrument. They are known as multi-instrumentalists.
Why play more than one instrument? We can't speak for all the multi-instrumentalists out there, but the folks we do know (our teachers and students) tell us it's all about their love of music – with different instruments they are able to make different sounds or perform various genres. Let's put it this way: if playing one instrument gives you a sense of accomplishment, think about how "masterful" you will feel if you are able to perform on two or more. Obviously, it takes a lot of work, discipline, and practice to learn to play on more than one instrument. But, as the Rolling Stones' front man Mick Jagger famously said, "everything worth doing is worth overdoing."
The (many) sounds of music
Mick is known to play the guitar, drums, and harmonica , but so many more musicians are gifted multi-instrumentalists as well. Let's look at some of them: Paul McCartney is brilliant at bass, acoustic and electric guitar , piano and keyboards as well as over 40 other musical instruments. Steven Tyler is best known as the Aerosmith's vocalist, but he also plays the harmonica , piano and percussion . No wonder Alicia Keys is on fire – she plays the piano , guitar, bass and cello. Speak about the ultimate multi-instrumentalist: Stevie Wonder performs on the piano , synthesizer, harmonica, congas, drums , bongos, organ, and a little-known instrument called harpeji . Another accomplished multi-instrumentalist, country western singer Dolly Parton is proficient at the guitar, dulcimer, autoharp , penny whistle, piano, drums, saxophone , gospel organ, mandolin, and banjo. As we said, this is just a partial list. There are many more!
Wearing more than one hat
Should you play more than one instrument? That is entirely up to you. Some of our students, having mastered one musical instrument, start to learn another, while others are happy to stick to just one. Before you decide, keep in mind that all the instruments have certain things in common, for instance, music theory and notes. Once you learn these basics, they will apply to all the instruments, although the sounds produced by different instruments will vary. Whatever you decide, we have just the right teacher for you. He or she will come to your Manhattan, Brooklyn, or Riverdale home or office and help you play as you like it.
Photo by unknown, available under Creative Commons License