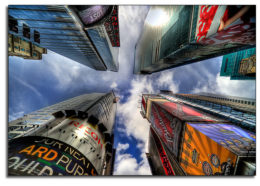 In the New Year, don't drop the ball on Manhattan music lessons!
"Ring out the old, ring in the new, ring, happy bells, across the snow. The year is going, let him go. Ring out the false, ring in the true."
~Alfred Lord Tennyson, 1850
Christmas and Hanukkah are behind us, and the New Year is almost here. This is not exactly a news flash -we are not really telling you anything you don't already know, are we?
But here's some happy news: December 21 came and went, and all of us are still here! The Mayan predictions didn't come true, the end of the world is officially postponed, so we have every reason to rejoice and ring in the New Year in style.
Whatever plans you have for the New Year's Eve, whether it includes watching the ball drop in Times Square, partying into the wee hours of the morning, or spending time with friends and family, you will likely have a wonderful time. And chances are that some form of music will enliven your celebration.

Years come and go, but music is eternal!
Fact is, live music has long been a part of New Year's Eve revelries and some concerts have become legendary.
Some of you may be too young to remember this, but for almost half a century (from 1929 to 1976), bandleader Guy Lombardo's orchestra performed New Year's Eve concerts, initially at Manhattan's Roosevelt Hotel and later at the Waldorf Astoria. Broadcast first on the radio and later on network TV, these concerts – Big Band music and couples dancing cheek to cheek – have become a major part of New Year celebrations across the United States.
In the mid-1970, in an effort to "rejuvenate" Guy Lombardo's concerts, music icon Dick Clark, host of the American Bandstand, started his own program, Dick Clark's New Year's Rockin' Eve. Even though Clark passed away earlier this year, the show, hosted by Ryan Seacrest, is still part of NYC's annual Times Square celebrations and is aired on television in prime-time.
Millions of people have danced to Lombardo's Big Band and Clark's pop music over the years, but one of the most grandiose – though less known in the U.S. – musical performances has been the traditional New Year's Concert of the Vienna Philharmonic, which is broadcast from Austria to an estimated 50 million people in 73 countries (in America, it can be seen on PBS on January 1). The classical tunes, which always include "The Blue Danube Waltz," are accompanied, in selected pieces, by dancers from the Vienna State Opera Ballet. It may not be a piece of Americana in the same way as Lombardo and Clark's concerts were, but you can't beat these performances for classical music, Old-World charm and elegance.
Sing, dance, and be merry
Of course, when we think of the New Year's music, the first song that probably comes to mind is the old tune, "Auld Lang Syne." Penned by Robert Burns, an 18th century Scottish poet and lyricist, it is the last (and the first) song we sing as the clock strikes midnight.
It is said that Burns did not intend this tune specifically to mark the New Year, but it's title, which means "old long since" or "for old time's sake," as well as its lyrics, are especially appropriate for marking the end of the old year and the beginning of the new:

"Should auld acquaintance be forgot, and never brought to mind? 
Should auld acquaintance be forgot, and auld lang syne!"
While "Auld Lang Syne" might be the most popular and certainly the oldest known New Year's song, it is not the only one. If you are in the mood for something more recent, you might want to listen to these tunes:
"Happy New Year," Abba
"New Year's Day,"
U2
"Another Year Has Gone By,"
Celine Dion
"Bringing in a Brand New Year," Charles Brown
"Funky New Year," Eagles
Renew your commitment to music
"We will open the book.  Its pages are blank.  We are going to put words on them ourselves.  The book is called 'Opportunity' and its first chapter is New Year's Day."
~Edith Lovejoy Pierce
What opportunity will you seize once January 1 rolls in? We are Hey Joe Guitar hope that learning to play an instrument is at the top of your "to-do" list for 2013.
Just as we have done in the years past, in the new one we will continue bringing beautiful music right into your home or office.  And, unlike the "Opportunity," we will knock on your door more than once!
So let's begin the countdown: TEN, NINE, EIGHT, SEVEN, SIX, FIVE, FOUR, THREE, TWO, ONE… HAPPY NEW YEAR – with Manhattan music lessons!

***
Photo Credit: kw~ny