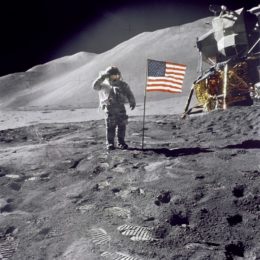 Where On Earth Do You Find the Best Music Lessons? Right Here, at Manhattan Guitar School!
What is your favorite vacation destination? Wherever it is, chances are it's somewhere on this earth.
Well, get ready! We recently came across an article that mentions significant milestones being made in developing a robot that can safely land us on the surface of the Moon! (But don't start packing just yet – it will take two or three decades before we'll be able to board private spaceflights to the lunar surface).

This article made us think about a truly momentous occasion that took place just over 45 years ago: the first lunar landing.
On July 20, 1969, millions of people around the world were glued to their TV sets when Apollo-11 landed in the Sea Tranquility. And they held their collective breath when the spacecraft's hatch was opened, the ladder was lowered, and astronaut Neil Armstrong slowly climbed down onto the Moon's surface, which he later described as being "like powdered charcoal."
As he put his left foot down and became the first human in history to walk on the Moon, Armstrong (who passed away in 2012) uttered the famous phrase: "That's one small step for man, one giant leap for mankind."
All in all, Armstrong and two other astronauts, Buzz Aldrin and Michael Collins, spent a total of 21 hours on the Moon, two-and-a-half of them outside the landing module collecting data, jumping across the lunar landscape, and planting the American flag to mark this historic achievement.
Upon returning to Earth, the astronauts spent three weeks in quarantine to detect the presence of alien organisms (none were found). The following six manned missions to the Moon – before the NASA stopped the program altogether in 1972 – were perhaps anti-climatic, but they, as well as other space treks, have not been in vain. As NASA points out, each journey helps us "discover new worlds, push the boundaries of our scientific and technical limits, and address fundamental questions about our place in the Universe and the history of our solar system."
Star trek
In view of this epic anniversary, a question that has crossed our minds is whether, on the way to the lunar surface, the astronauts listened to music.
It turns out that they did.
As an NBC News article reported, Neil Armstrong – who, in his teens, played the baritone, a large, valved brass instrument shaped like a trumpet – "found his music soothing and a perfect fit for the occasion."
Perhaps it was so fitting because the record he listened to in the spacecraft was a mixture of easy, relaxing tunes appropriately called "Music Out of the Moon" .
The third Apollo-11 astronaut, Michael Collins, reportedly brought with him a tape of Antonin Dvorak's "New World Symphony" .
There's no word on what Aldrin might have listened to, but we do know that he recently asked Snoop Dogg to create the song "Rocket Experience" to promote space exploration to young people.
"Out of this world" music
Twenty or thirty years is a long time to wait for your lunar vacation, but there's no reason why you shouldn't get your playlist ready. Here are some of our favorites:
"Fly me to the moon," Frank Sinatra
"Rocket man," Elton John
"Walking on the Milky Way," OMD
"Venus," Frankie Avalon
"Blue Moon," Billie Holiday
"Ground control to Major Tom," David Bowie
"Across the universe, " The Beatles
"You are the one who's out of this world," Alf
"Twinkle, twinkle little star," Jewel
When you wish upon a star
Our NYC music instructors are Earth-bound, but when it comes to their experience and abilities, they are…out of this world!
Whatever instrument you or your child would like to learn – whether it is the guitar, piano, drums, or any other instrument– we have excellent teachers for you! When they come to your Manhattan, Brooklyn or Riverdale home or office, they will move heaven and earth (figuratively speaking, of course) to give you the best lessons on the planet!
Photo by unknown, available under Creative Commons License