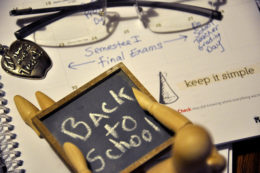 Learn to Play – at Manhattan Music School
September is here

And so is fall.
So welcome children,
 welcome all.

I hope vacation 
was real fun

And that you're glad 
school has begun.
-Anonymous
This little ditty is a dead giveaway about this blog's topic: it's back to school time in New York City! We are always a bit sad to say good-bye to the lazy, hazy days of summer but, with any luck, we still have plenty of warm and sunny days ahead.

What about the children? Chances are not all of them are eager to start school (and who can blame them?) Maybe your youngsters have mixed feelings – happy about reconnecting with their old friends(and making new ones) but not so happy about homework and climbing up that tricky rope in gym class.
Of course, as adults who have been there, done that, we know that school and all the extracurricular activities can be fun. We'll tell you about in a little while. But first, let's listen to some back-to school songs – many of them may even remind you of your own school days way back when.
Classroom classics
"ABC"
– The Jackson 5
"School Days" – Chuck Berry
"We're Going to be Friends" – The White Stripes
"Rock & Roll High School" – The Ramones
"To Sir With Love" – Lulu
"Be True to Your School" – The Beach Boys
Let the music play!
As mentioned above, beginning of the academic year is synonymous with all the great after-school activities your child can get involved in. If you think we are going to bring up music lessons just about now, you are right!
There are many compelling reasons why music education is a great and wholesome activity for your son or daughter, many of which we already covered.
At the risk of sounding repetitive, here, in a nutshell, are some of the many benefits children will draw from music lessons: better academic, intellectual, social, and emotional development; improved concentration, language and reasoning skills, as well as boosted creativity.
Once your child shows interest in starting music lessons, there are two things to consider: what instrument will he / she will play and who is best qualified to teach your son or daughter.
We have answers to both these questions.
At your service!
The choice of an instrument depends on factors such as age and size – the child should be able to handle the instrument with ease and feel comfortable holding and playing it. In case of a young child, good options include the recorder, flute, violin, or child-size guitar. Larger and heavier instruments like double bass or tuba may have to wait until your child is able to handle them!
Whatever instrument you pick out, chances are we teach it:
guitar, piano, drums, trumpet, trombone, brass, reeds, saxophone, clarinet flute, violin, viola, cello, strings, accordion, ukulele, banjo, recorder, and mandolin. And, we also give voice lessons.
As for finding awesome teachers for your youngster – no worries! Our Hey Joe Guitar instructors (all of whom are graduates of top music schools and conservatories) are highly experienced in teaching people of all ages, including children. Before we send them out to your Manhattan, Brooklyn, or Riverdale home or office, we screen them very carefully to ensure they will patiently teach your kids proper techniques, adapted to their age and level.
So welcome to the brand new school year!