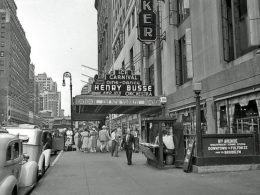 Manhattan music lessons are even hotter in the summer!
"Mom, Dad, I am BORED!" Ahhh, the sounds of summer, when school's out and kids are footloose (and underfoot as well). How can you keep your young'uns productively busy?
Good news is that New York City offers a wide variety of exciting summertime activities for youngsters of all ages http://mommypoppins.com/newyorkcityfamily/new-york-city-kids-summer-activities-guide, so no child should be bored and whining.
Summer holidays also provide a wonderful opportunity to introduce your kids to music. They will have lots of free time to take lessons and practice, and Hey Joe Guitar with its Manhattan music lessons will be pleased to help them along the way.
Don't forget the music!
Now, we don't mean to say that playing an instrument and improving your child's musical skills should be all-consuming. Children need a variety of fun activities in their spare time – visits to the zoo, swimming, monkeying around on a playground, and learning all sorts of cool stuff.
But summer days are long, and, with a little creative thinking and advance planning, music lessons will fit snugly into your child's (and your) schedule.
In case you are wondering why it is important to initiate your son or daughter to music, we can give you numerous compelling reasons. There is a wide body of scientific evidence showing that starting music training early in life has multiple benefits on the children's character and development – academic, intellectual, social, and emotional. Music education also helps youngsters develop concentration, discipline, and become better team players (no pun intended) – all the skills and abilities that will serve them well throughout their lives. Remember: a journey of a thousand miles starts with a single step and that first exposure to an instrument will hopefully launch a lifetime passion for music!
Hey Joe Guitar at your service!
Your children are off for the summer, but our NYC music lessons never take a break. Here are some of the advantages our school can offer during the summer and at any other time of the year, for that matter:
We have excellent, well-trained, personable and patient teachers, all of whom are graduates of top music schools and conservatories, and the majority hold master's degrees in music and/or teaching.  They are carefully screened to ensure they will teach your children proper techniques, adapted to their age and level.
We teach guitar, piano, drums, trumpet, trombone, brass, reeds, saxophone, clarinet flute, violin, viola, cello, strings, accordion, ukulele, banjo, recorder, and mandolin. And, we also give voice lessons.
We come to you! As New Yorkers ourselves, we know just how hot and humid our city is in the summer and we would never ask our students to venture outside with their sometimes-sizeable instruments. That's why our teachers will "deliver" the lessons to your air-conditioned Manhattan or Brooklyn home or office – they don't mind breaking a sweat so your kids don't have to!
If you want to get a head start on summertime music training for a child (or a young-at-heart adult), or if you need further information about our in-house Brooklyn and Manhattan music lessons, please contact us.
Music – this is what's HOT this summer!
***