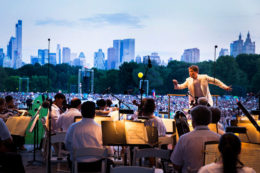 Get Ready for "Hot" Music, at Manhattan Guitar School
It wasn't so long ago that New York City was in the throes of cold, wintry weather and we wrote about how to keep warm and healthy. At that time we predicted – accurately, as it turns out – that the gray and bleak winter would not last forever. We were right! Three days from now, on June 21, summer will officially be here and if past years are anything to go by, pretty soon the temperatures will rise, the humidity level will be high, and we will probably remember those cool and crisp winter days with bittersweet nostalgia!
Seriously though, summer in the city – especially if you are a music lover – can be a barrel of fun. There are many concerts and other musical performances taking place over the next two months, and it goes to prove that this city not only never sleeps, but it doesn't take a vacation either!
The streets are alive…
Here are some not-to-be –missed events music lovers will enjoy: New music July 4 – Sept. 5, 2015 Warm Up is experimental live music, DJs and dancing in the outdoor courtyard of MoMA PS1 in Queens. Free concerts at MoMA July 5 – 26, 2015 (Sundays) Attend four weekly jazz and classical music concerts at Summergarden in the sculpture garden of the Museum of Modern Art. Lincoln Center Festival July 6 – Aug. 2, 2015 Enjoy extraordinary opera, music, dance, and theater that showcases contemporary artistic viewpoints at Lincoln Center Festival in and near Lincoln Center. Indie music festival July 9 & 23, 2015 (also Aug. 6) River Rocks is a music concert on three Thursdays along the water at Hudson River Park. Seaport music festival July 11, 2015 4.2 miles south Rock out with two stages of performers at the 4Knots Music Festival in historical South Street Seaport. Tony-winning musical July 11 – Aug. 29, 2015 (Saturdays) 4.5 miles north The cast of In the Heights sings and dances around you to vibrant hip-hop, pop, and Latin music as they tell the story of tight-knit Dominican-Americans at Harlem Repertory Theatre. Jazz festival July 21 – 30, 2015 Hear dozen of world-class jazz artists (including soulful singers, piano partners and dueling drummers) at 92nd Street Y Jazz in July Festival. Classical music festival July 22 – Aug. 22, 2015 Attend concerts, operas, late-night recitals, and world premieres at Mostly Mozart Festival, performed by the festival orchestra and special guests at Lincoln Center. Outdoor concerts August 1 – 9, 2015 (begins July 22) Out of Doors is three jam-packed weeks of world-class music, dance, and spoken word in the plazas of Lincoln Center if dry. These are just some of the concerts that take place in out city in July and August. There are many more, so start marking your agendas!
Summer school
If you love music, you will surely find what you are looking for among the above-mentioned performances (if you can't find it in New York City, where can you find it?) And just because it's summer doesn't mean there are no music lessons. Our school's never "out," and our teachers are always on call – whether you want to continue your lessons or start new ones. We will come to your Manhattan, Brooklyn or Riverdale home or office to teach you cool music for the hot days!