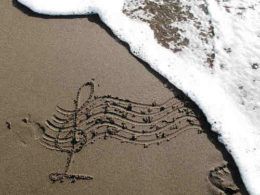 New York Guitar School Tells How to Chill Out This Summer
When you think about summer, do images of sandy beaches jump to mind? But what if you are spending the summer in the city – do you have to give up the thoughts of warm ocean breezes? Not at all! As New Yorkers, we are lucky to have some great beaches very close within our reach. In fact, NYC has a total of 14 miles of beaches, all of which are open from Memorial Day weekend through Labor Day. Even though one moment you are caught up in the urban hustle and bustle, an hour or so later you could be lying on the sand and soaking up the sun.
As if by careful design – by actually by mere coincidence – these patches of sandy paradise can be found in most NYC boroughs, and even if you live in one that doesn't boast its own beach (like Manhattan), the commute to one is – no pun intended – a breeze!
Summer in the city
Brooklyn offers lots of options, starting with the iconic Coney Island. It offers three miles of sandy beaches, not to mention the amusement park and boardwalk. It is such a famous part of our city's landscape that Lou Reed actually sang about it. Then there is Manhattan Beach, which is actually located in Brooklyn's southern tip, and is part of the larger area known as Brighton Beach. Now populated by Russian and Ukrainian immigrants, this sandy strip is called "Little Odessa." Moving on to Queens, the Rockaway Beach is not only very large, but it is also the only one in New York City that has two separate stretches reserved just for surfing. And it was made famous by The Ramones' 1977 hit song : "Chewin' at a rhythm on my bubble gum The sun is out, I want some It's not hard, not far to reach We can hitch a ride to Rockaway Beach." The Orchard Beach in the Bronx offers 1.1- mile of sandy shoreline. When it was first created in the 1930s, it was named "The Riviera of New York!" If you live on Staten Island, you have plenty of choices: the South Beach, Midland Beach, or Wolfe' Pond Beach. If you want to venture a bit further from the city, there's Long Island's Jones Beach. With a 6.5- mile stretch of sand and two swimming pools, it is one of New York state's largest facilities of this kind.
Keep up the music!
We hope you will take advantage of the beaches that our city has to offer. After all, as the famous song says, in the summertime, the livin' is (or at least should be) easy. Still, don't forget to keep up your music training during the summer months – don't let your guitar, piano, or other instruments get idle! Our teachers continue to give lessons regardless of the season. They will come to your Manhattan, Brooklyn or Riverdale home or office, even if you don't live by the beach!
Photo by unknown, available under Creative Commons License