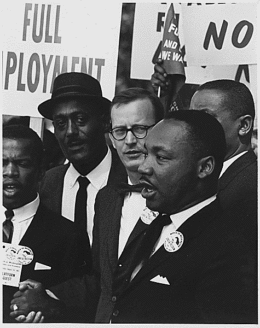 Play or sing the songs that inspired change – with New York City guitar lessons
"Free at last! Free at last! Thank God Almighty, we are free at last!"
~ Dr. Martin Luther King in his "I Have a Dream" Speech.
On August 28, 1963, hundreds of thousands of people from all over America marched on Washington D.C. to demand equal rights in the society that was still largely segregated.
It is difficult to imagine this today, but in those days and in many places across the country, African-Americans had no right to eat in the same restaurants, stay in the same hotels, and use the same restrooms and water fountains as other citizens. These were just some of many injustices and discriminatory practices inflicted on African-Americans one hundred years after the signing of the Emancipation Proclamation.
King's rousing "I Have a Dream" speech, which he had given on that summer day on the steps of the Lincoln Memorial, has mobilized millions of people and spawned the 1964 Civil Rights Act.

As the country is celebrating the Martin Luther King Day on January 21 and commemorating the civil rights movement that had changed the political and social landscape of the 1950s and 60s, let's look at some of the the songs that had inspired people to keep fighting for justice and equality.
Songs of freedom
As President Obama mentioned during a 2010 White House event celebrating the Black History Month, "the civil rights movement was sustained by music." Singing songs of hope gave people courage and comfort in the midst of the upheaval.
In a show of solidarity and support, black and white artists like Mahalia Jackson, Harry Belafonte, Bob Dylan, and Joan Baez, joined hands in promoting the cause through a variety of uplifting songs. The best known among then was "We Shall Overcome," which was reportedly one of King's favorites.  The song, which had been performed by a variety of artists, including Mahalia Jackson and Pete Seeger, expresses the hopes for freedom and equality:
"We shall live in peace someday;
Oh, deep in my heart, I do believe,
We shall live in peace someday."
Other tunes, which captured both the turmoil and optimism surrounding the civil rights movement, also gained popularity. Among them were Bob Dylan's famous rendition of "Times They Are a-Changin'," Shirley Verrett's "Oh Freedom," and "Change is Gonna Come" by Sam Cooke.
Many more songs have provided a fitting soundtrack for the struggle that had resonated deeply among musicians and American citizens of all ages and stripes. Here's a list of the most popular ones of that time: http://newsone.com/1460645/top-10-civil-rights-protest-songs-of-all-time/
Comfort though music
You might be wondering which songs that had inspired civil rights activists were King's personal favorites. From the historic accounts, we know that, besides the aforementioned "We Shall Overcome" by Pete Seeger, he also enjoyed a traditional Black-American spiritual, "There is a Balm in Gilead," Mahalia Jackson's rendition of "Amazing Grace," as well as hymns like "All Hail the Power of Jesus' Name," "In Christ There is No East or West" and the "Hallelujah Chorus" from Handel's "Messiah."
These songs are not civil rights battle cries as such, but are more spiritual in nature. Let's not forget, however, that besides being an activist, King was also a Baptist minister, so it's not surprising that he found strength and comfort in religion.
Could King belt out some tunes himself? His widow, Coretta Scott King, a trained classical vocalist, wrote in her 1969 book, "I never really told him he couldn't sing. He had a good voice for a choir."
King's old friend, the Rev. Joseph Lowery, answered this question in witty yet diplomatic manner: "I refuse to comment on the grounds it might make me sound nasty," he said. "His gift was speaking more than singing, but he loved music."
Make a difference through music
Love and appreciation of music are certainly good foundations on which to build musical training.
Our Manhattan music lessons are geared to people of all ages and levels, so whether you'd like to play an instrument or sing any of the songs that came out of the civil rights movement (or any other tunes, for that matter), we will be happy to come to your home or office and teach you.
Please call us soon, and in the meantime, let's not forget people like Martin Luther King, who had fought tough battles and gave their lives so all of us can live in a more just society.
***