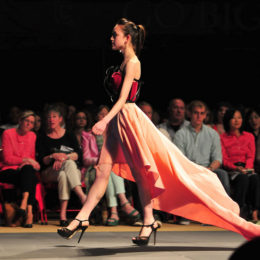 Manhattan music lessons are never out of style!
"I don't do fashion, I AM fashion."
The famed French designer said these words at the height of her career, in the first half of the 20th century. She was right – to this day, Chanel's name is synonymous with high fashion and classic elegance.
Some fashions and fads come and go (think "Goth," and "grunge") but even four decades after her death, Coco's signature styles – such as the iconic "little black dress" and a string of pearls – are still very much in vogue, as is her perfume, Chanel no. 5.
All this goes to prove that fashion and music have at least one thing in common: the best pieces are timeless!
As Fashion Week commences on New York City this week, let's talk about style.
Runway hits
There is a reason why we are talking about clothes here – February 15 to 19 marks the New York Fashion Week, which every year showcases the latest couture by the world's top designers.
Though the spectators' dress code for this event is elegant and chic, the music that typically accompanies the show is quite eclectic, ranging from chill tunes to electric hits, a mix that keeps the models sashaying and the audience riveted.
Each season, designers create the playlist to animate their collections, choosing the music that best reflects the mood they want to create.
Here are some examples of the sometimes surprising and / or unconventional soundtracks from a recent New York fashion show:
A soaring drum score from the movie Avatar was Donna Karan's pick; Lacoste's models strutted to the sounds of "Higher Ground" by TNGHT; and Tommy Hilfiger's pick was "I Follow Rivers" by Lykke Li.
All dressed up
It may seem like each season new styles, cuts, hemlines, colors, and fabrics are in vogue. But if you are really observant, you will notice that fashion trends tend to repeat themselves every few decades. Just look at platform shoes, shoulder pads, and other "deja-vu" styles.
That is just as well because it means that songs about clothes and accessories are always in fashion. Here are some examples:
As we mentioned above, good music never goes out of style, which is why our music lessons are always relevant.
We can come to your Manhattan, Brooklyn, and Riverdale home or office and teach you to play guitar, piano, drums, or any other instrument – fashionable or not. And, unlike the shows that take place during the Fashion Week, we do not require elegant attire (but draw the line at birthday suits).
If you want to have your lesson while wearing your oldest sweats and sneakers, that's okay with us – the music you make will be just as beautiful.
Photo by Michael King