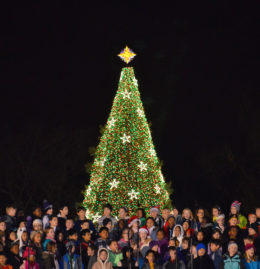 New York Music School's Guide to Christmas Music
It's Christmas Eve and, to paraphrase the famous poem by Clement Clarke Moore, "all through the house
not a creature is stirring, not even a mouse.
The stockings are hung by the chimney with care,
in hopes that St. Nicholas soon would be there." Of course, this is an idealized image of Christmas Eve, one that all too often doesn't match the reality of our hectic lives. If you are like most New Yorkers, chances are that responsibilities of jobs and families have not left you enough time for comfort or joy this holiday season.
But the good news is that it is not too late to "soak up" some holiday spirit and enjoy the hours ahead. How? We are not talking about the frantic, last-minute shopping, but rather about a quiet immersion in Christmas concerts that take place in almost every corner of our city.
Off the tourist track
Sure, there are famous venues like Radio City Music Hall with its Christmas Spectacular or the performance of the Nutcracker at Lincoln Center. Both are superb, of course, but what we have in mind are less touristy and more intimate venues. For instance, today there is holiday caroling at Washington Square Park, Gramercy Park, and East Village (by the statue in the West Stuyvesant Square Park),.They will certainly be fun community events. Whether you are a churchgoer or not, as a music lover you will enjoy Christmas concerts in various churches around the city. Tonight at 10:30 pm and tomorrow at 1 am, there will be plenty of music at the Cathedral Church of St. John the Divine at 1047 Amsterdam Avenue and 112th Street. Following traditional carols sung by the Cathedral Choristers, a concert featuring Mozart's Adagio and Rondo, K. 617, Coronation Mass, K. 317, and more, will be performed by he combined Cathedral Choirs. On December 26, you can hear Handel's "Messiah" at Trinity Church on Wall Street and Broadway. These are just some of the many Christmas Eve/ Day events that will brighten up your holidays.
Post-holidays lessons
In a couple of days, Christmas will be over, though the holiday season will continue until New Year's Eve. We'll understand if you want to spend this special time with family and friends rather than with your music teacher! However, once all the festivities are over, please contact us and ask us to send one of our excellent music teachers for a private lesson at your Manhattan, Brooklyn, or Riverdale home or office. For this occasion, we'd like to re-write Moore's poem this way: "T'was after the holidays and all creatures were in good mood cleaning the violin and waxing the flute. The guitar was dusted and piano polished with care In the hopes the music teacher soon would be there." Okay, so we are not great poets (nor have we ever pretended to be), but we sure know music!
Photo by unknown, available under Creative Commons License