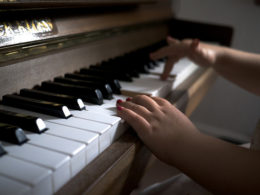 New York Piano School Has the Keys to Great Lessons
Did you know that the world-famous Steinway Piano Company was founded right here in New York in 1853, in a loft on Manhattan's Varick Street? If you are curious to see how these elegant instruments are put together, you can go on a tour of Steinway's factory in Queens.
And that brings us to the topic du jour: September is the National Piano Month, dedicated to this elegant instrument that has contributed so much to the development of music, both classical and modern. This is also a great occasion to talk about the piano, which continues to be one of the most popular instruments in the world. There is a good reason for that: this instrument is versatile and can be used to play different styles of music. Think of the piano as a "gentle giant:" its takes up a lot of room, weighs between 400 and 1,000 pounds, has over 12,000 parts – 10,000 of which are moving – 200 to 250 strings, as well as 88 keys. But oh – what beautiful music this mighty instrument is capable of producing!
Proud history
It seems like the piano has been around for a long time – and it has. But before an Italian instrument maker Bartolomeo Cristofo created the piano in the 17th century, many composers (including Bach) played on a look-alike instrument called the harpsichord . Over the next centuries, composers like Mozart, Beethoven, Haydn, Chopin, and many others, created the most beautiful, emotionally stirring piano concertos , sonatas , and other pieces of music. Later, different styles of music– including jazz , pop , rock , and other genres – took over the piano as well. And though the piano is such a "grand" instrument, it lends itself to some musical whimsies as well!
Let your fingers do the…playing
We hope that all the above exampled have inspired you (or your child) to start taking piano lessons. If you are nervous about having to strap your piano on your back and schlep it across town – don't. Our teachers will come to your Manhattan, Brooklyn or Riverdale home or office – wherever your instrument happens to live. They won't haul their own pianos but they will certainly teach you how to tickle the ivories on yours!
Photo by Oliver Quinlan