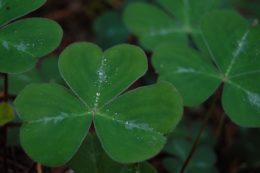 Manhattan Music School Helps You Enjoy Irish Tunes
Ah, St. Patrick's Day – what great fun, even if you are not Irish. Now, you might think that this holiday, which falls on March 17, is all about eating, drinking, dancing, parading, and lots of merriment. That it is, but there is so much more to St. Patrick's Day that you may not know about.
Before he became patron saint of Ireland (which is called "Eire" in Gaelic, Ireland's native language), Patrick was credited with bringing Christianity to his native land in the 5th century AD. Throughout centuries that followed, his life has been shrouded in legends and mysteries –including the famous tale about Patrick banishing all the snakes from Ireland. This and many other stories traditionally associated with St. Patrick are just part of the folklore, as well as rich storytelling traditions the Irish are known for. What history does tell is that Patrick, a son of the wealthy British, was kidnapped at 16 by Irish outlaws and brought to Ireland, where he was a slave until his escape to France six years later. However, he later had a vision in which he preached gospel to the Irish, so he eventually returned to Ireland, where he built churches and spread the Christian faith.
True colors
When we think of St. Patrick, we think of green. After all, leprechauns and shamrocks are green, right? And, Ireland is also known as The Emerald Isle, all of which may explain why we believe that green is that country's national color. It is not! In fact, it is royal blue, though the green is the color of Irish Catholics. As legend has it, St. Patrick supposedly used a three- leaf clover to teach the Irish about the Trinity, so the shamrock's shape and color came to symbolize the Irish Christianity and became associated with St. Patrick's Day. As for the explanation behind the name "Emerald Isle," it has more to do with Ireland's climate than with history. Relatively mild winters and plenty of rain turn the country's abundant pastureland a bright emerald green color. So now you know!
When Irish eyes are smiling
As New Yorkers, we at Hey Joe Guitar love the spirit of St. Patrick's Day celebrations. That's because a significant number of our fellow NYC residents are of the Irish descent. Although the biggest wave of Irish immigration to NYC occurred in the late 19th century, when Ireland suffered a devastating famine, the first Irish immigrants arrived here during the colonial era of the 18th century. In fact, New York's first St. Patrick's Day parade dates back to 1762. According to the official website of NYC's St. Patrick's Day Parade, that first event "was held on lower Broadway by a band of homesick Irish ex-patriots and Irish military, who served with the British Army stationed in the American colonies. This was a time when the wearing of green was a sign of Irish pride and was banned in Ireland. The parade participants reveled in the freedom to speak Irish, wear the green, sing Irish songs and play the pipes to Irish tunes that were very meaningful to the Irish immigrants who had fled their homeland." What a difference three centuries make: today, our city's St. Patrick's Day parade is the largest in the world – bigger than even in Ireland!
Celtic thunder
Leprechauns, castles, good luck and laughter Lullabies, dreams, and love ever after. Poems and songs with pipes and drums A thousand welcomes when anyone comes. That's the Irish for you! Talk about the luck of the Irish! You didn't think we'd talk about St. Patrick's Day without mentioning music, did you? Numerous musicians of Irish descent have made their mark on the American music scene: bandleader Tommy Dorsey, and singers Judy Collins, Alice Cooper, Sinead O'Connor, and Kurt Cobain, among many others. What about the traditional Irish songs? Many typical ones are ballads and folk songs, and quite a few are…drinking songs! All of us have probably seen images of hearty Irish town or village folk sitting in a pub and belting out tunes while raising their glasses of frothy Guinness. It's possible that one of those songs is "My Wild Irish Rose" or "Danny Boy" , which are among the best known in the United States. Are you a fan of Ireland's music? With our Manhattan, Brooklyn and Riverdale music teachers, you can learn to play any Irish song on any instrument, and be the life of the party by the time next year's St. Patrick's Day rolls in. In the meantime, we wish all our Irish friends Lá Fhéile Pádraig shona dhui!
Photo by unknown, available under Creative Commons License