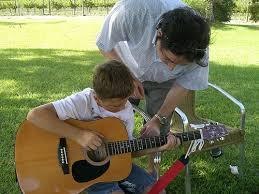 New York Music Lessons: Invite Us into Your Home!
It's the middle of January – how are you doing with your New Year resolutions? We hope you are sticking to them, especially if you or your child have decided to take up music lessons in 2016. There is no doubt that music education has numerous benefits for people of all ages. It not only improves our physical health, but also the mental and emotional wellbeing.
Having been in the music education business for many years, we are often asked by prospective students how to select a truly great school. Our advice is always the same: choose the school that has the best trained, most experienced, nicest, and kindest teachers. That's just for starters. There is much more that a top-notch school should be able to offer its students.
One-on-one training
While any form of music training is beneficial, we believe – based on our experience, as well as that of numerous students – that private lessons offer the most advantages. For instance:
In a group setting, the instructor cannot pay attention to each student's needs or learning pace. A private music teacher, on the other hand, gives the one-on-one instruction, adapted specifically to the student. It's not general or generic, but specific and personalized.
Because the lesson is tailored specifically to each student's needs, level, and particular interests, the teacher will choose the exercises and repertoire that will help develop skills and technique.
During a private session, the "hands on" instruction is exactly that: the teacher will demonstrate the proper way to hold, handle, and use the instrument, and also pay attention to the student's posture.
During a private lesson, a teacher will give an instant feedback to the student, assessing progress or suggesting corrections.
Because the teacher is "invested" (in the manner of speaking) in the student's musical development, he or she will offer constant support and encouragement – both of which are very important, especially when a student loses focus or motivation.
Go private
As you can see, private lessons offer numerous advantages. Of course, the most important component of this experience is the instructor – the student's progress will depend on how well educated and experienced the teacher is. At Hey Joe Guitar, we realize the role our teachers play – no pun intended – in a student's musical journey. That's why we screen our teachers carefully to make sure that they meet our (and your) high standards. That means they are graduates of the top U.S and international music schools, have extensive teaching experience to ensure they have developed the necessary skills to make music education inspiring, interesting, and fun. And, as though all these criteria were not enough, we also select the teachers who are patient, affable, and well equipped with "people skills." But that's not all: our teachers are not only amazing but also mobile! This means they will come to your Manhattan, Brooklyn, or Riverdale home or office. Now, that's a private lesson that lives up to its name!
Photo by unknown, available under Creative Commons License