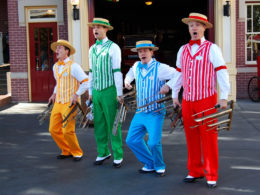 With New York Musical School, You'll Never Sing Off Key
If we asked you what special day is celebrated today, April 11, you probably wouldn't know without running a Google search. Here is a clue: it involves a capella singing of easy-on-the-ear tunes, with three voices harmonizing to the melody of a fourth voice (the bass provides the foundation and the baritone fills in the middle spaces). Have you guessed? We are celebrating the National Barbershop Quartet Day, observed annually on April 11.
It's true that this style of music is not necessarily on everyone's radar. But that's exactly why today is a good opportunity to get acquainted with this old musical tradition that started in England in the 1600s and flourished in our country at the dawn of the 20th century.
A bit of history…
In the 17th century, British barbers equipped their shops with a cittern (a stringed instrument similar to a lute) so that their customers could strum on it while waiting for their shave and haircut. And that's how the term "barber's music" was coined across the Big Pond. Even though a similar tradition was brought over to America in the 1830s and barbershop music became popular here between 1900 and 1919, it faded with the advent of the Jazz Age in the 1920s. But in 1938, when the Society for the Preservation and Encouragement of Barber Shop Quartet Singing in America was formed, this style of music experienced a renaissance of sorts. For those who are not familiar with barbershop quartets, here are some examples from the archives of Barbershop Harmony Society (BHS): The 2011 winners of BHS's international competition From the 2015 BHS competition The performance of UK's Great British Barbershop Boys has bits of humor (or humour) in it And, of course, Jimmy Fallon's version is always funny .
At the top of your voice
Whether you are a fan of barbershop quartets, a capella performances, or choral music in general, and would like to "fit in" with that crowd, the first step is to learn to sing. It sounds simple, but if you want to excel in any vocal group (or in solo performances for that matter), you have to learn to use your abdomen muscles, proper breathing techniques, good posture, etc. They are necessary not only to help your voice carry high and low notes, but also to keep your vocal chords in shape. This is where singing lessons can help. One of our trained voice teachers will be happy to come to your Manhattan, Brooklyn or Riverdale home or office and help you raise your voice in song – and no haircuts are necessary!
Photo by unknown, available under Creative Commons Licence.