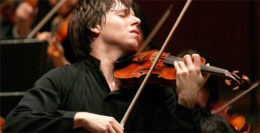 Learn the Magic of the Violin, at Manhattan Music School
We love it when we hear or read about the positive impact musical instruments have on the lives of people everywhere. True, instruments are inanimate objects but they have such magical powers. By "magical" we don't mean "supernatural" or "mysterious," but rather "meaningful" in the ways they touch and change so many lives.
A case in point is a 300-year-old Stradivarius that New York violinist Joshua Bell played last month during a concert at Lincoln Center. As New York Post told it, that prized instrument "saved dozens of people from the Holocaust." This uplifting and inspiring story is worth telling, especially since the violin in question has a fascinating history of its own.
Once upon a time…
First of all, a little background: Italian luthier Antonio Stradivari crafted 1,116 string instruments during his lifetime. Of those, 540 violins, 50 cellos and 12 violas survive today. As the article relates it, Bell first saw the instrument in question nearly 15 years ago in a London shop where he went to buy some strings. "The shopkeeper emerged from a back room with a stunning violin in hand," Bell recalled. "He told me it was the famous Huberman Strad, and I was instantly intrigued." The violin was so named because it had once belonged to the virtuoso Polish violinist Bronislaw Huberman. On Feb. 28, 1936, while Huberman performed at Carnegie Hall, the Stradivarius went missing from his dressing room. He never saw his beloved instrument again. As it turned out, the violin was stolen by a two-bit violinist Julian Altman, who sneaked into Huberman's dressing room during the concert. Altman used shoe polish to disguise the prized instrument, which he played at every gig he had over the next 48 years. He finally confessed to the theft on his deathbed in 1985. On the day that Bell found the instrument in a London shop –restored to its golden varnish again – it was about to be sold to a German industrialist who wanted to add it to his collection. However, Bell purchased it himself for nearly $4 million.
A life saver
Thankfully, before Altman stole Huberman's violin, it played – both literally and figuratively – a very important role in saving the lives of many musicians. Huberman, who was Jewish, performed – on his famous Strad, of course – at a series of U.S. venues in order to raise money to settle European musicians and their families in what was then Palestine (now Israel). With WWII just around the corner, Huberman recognized that getting Jews out of Europe was extremely urgent. As it turns out, Bell's own Russian-Jewish great-grandparents were among the emigrants, so his connection to Huberman's Strad is very strong. "When I perform in Israel with the Israel Philharmonic," he said, "I am always touched to think how many of the orchestra members are direct descendants of the musicians Huberman saved from the Holocaust — with funds raised by concerts performed on the same instrument I play every day."
Make your own history
At Hey Joe Guitar, we like all instruments, but we have special affinity for the ones that have a rich history, even if it's a poignant one like Huberman's Strad or these old cellos. But even if you owe just "regular" instruments, one of our teachers will be happy to come to your Manhattan, Brooklyn, or Riverdale home or office and give you a lesson. Because even an ordinary instrument can make extraordinary music!
Photo by unknown, available under Creative Commons Licence.