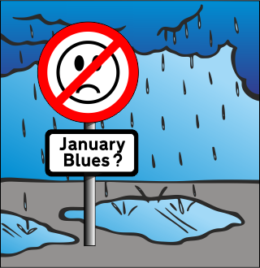 Brooklyn Music Lessons Will Help Your Spirits Soar
T.S. Eliot claimed that April is the cruelest month, but he may not have been aware of the research suggesting that, in fact, January should be claiming this title.
Studies done over the years indicate that January is the "blues" month, which has nothing to do with the music genre, but, rather, with the funk many people are in.

Why January? There are several reasons: Christmas and Hanukkah are over and the withdrawal from the cheer, comfort and joy is not easy. And if you have gained a few extra pounds – as many people do during the holidays – then you might be down in the dumps. Also, January in New York is often cold and gray, with the prospect of several more bleak weeks ahead. It is a well-known fact that many people are affected by the weather, a phenomenon aptly called "SAD" – Seasonal Affective Disorder.
The combination of some (or all) of these factors can indeed make you feel listless and "out of it." But there IS light at the end of the tunnel: all that gloom and doom are temporary.
Beat the blues
Experts tell us (and who are we to doubt them?) that there are some effective ways to lift your spirits when they are low. Different things may work for different people, but generally speaking these activities have proven to be real mood boosters:
Get moving: When you are feeling blue you probably don't want to get off your comfy sofa and venture outdoors. But physical activity is one of the best cures for winter "blahs," so c'mon – bundle up and go for a walk. Or how about skating in Central Park's Wollman or Lasker Rinks? There is also the annual Winter Jam sports festival in Central Park, which takes place on January 25 from 11 am. to 3 pm. You can snowshoe there, do Nordic skiing, and other fun activities that are healing for your body AND soul.
Be a culture vulture: New York is a treasure trove of arts and culture. Get out there and enjoy the concerts, exhibits, and whatever other events strike your fancy.
Relax: Yes, but don't just sit there staring at the wall. Instead, practice "active" or "mindful" relaxation, which helps relieve stress, as well as find serenity, inner peace, and emotional balance. Here are some techniques to help you get to that "happy place."
Don't forget the music!
You knew we'd say it, didn't you – music has been proven to be a very effective "picker-upper" for January (and other) blues. By releasing endorphins in the brain – "the feel-good" hormones that make us happy – music provides an emotional release from all the tensions and stress factors.
Of course, if you are feeling low, you probably shouldn't listen to or play a piece that will make you even sadder. What you want is music that is upbeat and has uplifting lyrics. For instance:
"Somewhere Over the Rainbow," by Israel Kamakawiwo'ole
"What a Wonderful World," by Louis Armstrong
"Smile," by Harry Connick Jr.
Tune in!
One way to turn January into a "happy" month is to start an enjoyable and mood-boosting activity. We are talking, of course, about music lessons.
Fact is, music training provides a multitude of benefits for people of all ages.
When it comes to teaching guitar, piano, drums, or any other musical instrument, our teachers are true miracle workers. No, they won't come to your Manhattan, Brooklyn or Riverdale home or office with a magic wand, but they will use their professional experience, patience, kindness, and sweet personalities to make sure your music lessons lift your spirits. And who knows, the first song they'll teach you to play could be this one .
Photo by unknown, available under Creative Commons License