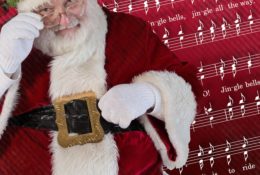 It's "that" time of the year again: holiday season is upon us and Christmas music resounds almost everywhere around us.
You know the titles and melodies of these songs, but you may not know that many of them have very interesting histories.
So let's look at five fascinating facts about the most popular holiday tunes:
Several songs that celebrate Yuletide, including "Rudolph The Red-Nosed Reindeer," "Rockin' Around the Christmas Tree," "Holly Jolly Christmas" and "White Christmas" — the top-selling Christmas song of all time — were written by Jewish songwriters.

Another popular tune, "Jingle Bells," is traditionally associated with Christmas, but it was originally written to celebrate Thanksgiving. And it was the first holiday song to be played in space when astronauts Walter Schirra Jr. and Thomas P. Stafford performed it on a harmonica (the world's best-selling musical instrument) on December 16, 1965 while they were orbiting Earth in Gemini 6.
The song "Do You Hear What I Hear?" is part of the Christmas repertoire, but it was actually written in October 1962 as a plea for peace during the Cuban missile crisis.

"The Christmas Song," commonly known as "Chestnuts Roasting on an Open Fire" seems perfect for a cold winter day, so it is surprising to learn that it was written during a summer heatwave in 1944 as a way to "stay cool by thinking cool."
Australians have their own version of "The Twelve Days of Christmas" where all the animals are replaced by their local wildlife: "Two snakes on skis, eight dingos dancing … nine crocs a – snoozing … ten wombats washing …" And yes, there is a kangaroo in there as well! There's even an Aussie version of "Jingle Bells" that includes the lyrics, "All the family is there sitting by the pool."
New Versions of Old Songs
Are you tired of hearing the same old holiday tunes all over again, yet want to continue to enjoy the holiday spirit they impart? No problem. Some old classics have been updated in recent years, and we hope they will bring you much comfort and joy.
With music in our hearts, we'd like to wish our students, their families, and everyone else, very happy holidays!