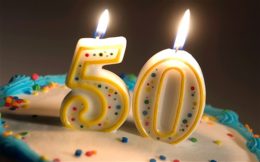 Manhattan Guitar School is Alive With The Sound of Music
Unless you are a fan of musicals (as we are), you may not have realized that this year marks a momentous anniversary: 50 years since the release of the film adaptation of the Rodgers & Hammerstein musical, "The Sound of Music."

The 1965 Academy Award winner that has popularized whiskers on kittens and warm woolen mittens is a poignant tale of an Austrian family forced to escape Nazi occupation of their country during WWII. The film is based on the real-life von Trapp family, though, as it often happens in movies, some parts were fictionalized.
"The Sound of Music" is not only a heart-warming story, but it also has some beautiful and memorable songs – for instance, "The Hills Are Alive" and "Sixteen Going on Seventeen." But perhaps one tune that has stuck in most people's minds is the catchy "Do Re Mi Fa." In fact, a few years ago this upbeat song was presented in a massive flash mob at a Belgian train station.
All we can say is happy birthday, "The Sound of Music," and thanks for the memories!
Some of our favorite things
"The Sound of Music" is one example of classic film musicals and the memorable songs that made them famous. Of course, it's impossible to mention them all here, but here's a partial list of the most popular ones:
"The Wizard of Oz" (1939). Who could forget young Judy Garland's voice as she sang "Somewhere Over the Rainbow."
"Singing in the Rain" (1952). Gene Kelly makes it look so easy!
"West Side Story" (1961) features Leonard Bernstein's famous song, "Maria."
"Mary Poppins" (1964). A year before she starred as Maria in "The Sound of Music," Julie Andrews was a nanny with a magic touch, as demonstrated in this cheeky song, "A Spoonful of Sugar."
"Grease" (1978). It's difficult to choose just one song from this original "high school musical," but we'll go with "You Are The One That I Want."
As we said, we can't list all the wonderful musicals here, because there are so many of them. But you can get a more comprehensive glimpse from the American Film Institute.
Our own sound of music
Whether they are "oldies but goodies" like the ones mentioned above, or born out of more recent films , we at Hey Joe Guitar love show tunes! A movie like "The Sound of Music" and others listed here combine melodies with a theme – a plot, if you will – and this combo makes the whole listening / watching experience all the more interesting.
Now, we are not filmmakers so we can't really set a story line to music. We leave this task to those who know this field. What we do best is stick to the "music" part as it pertains to an instrument or your voice.
So if you want to learn to sing or play any show tunes on the guitar, piano, saxophone, or any other instrument, contact us. Alas, we don't offer lessons (as much as we would love to) in the Austrian Alps or at Rydell High, but we will happily come to your Manhattan, Brooklyn, or Riverdale home or office. In other words, we are…Hopelessly Devoted To You !
Photo by unknown, available under Creative Commons License