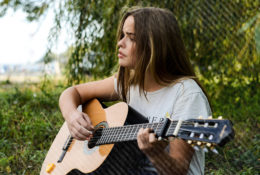 Summer guitar lessons in NYC
Look no further. As summertime and the livin' is easy. This means that when school is out and kids are on vacation, the last thing they want to do is practice music.
We get it. But as music educators we know that stopping guitar lessons or piano lessons (and not practicing) for several weeks is not a good thing. Children (and adults too, for that matter) who resume their music lessons after a summer of inactivity often need several weeks to "catch up" — to relearn what they already knew but have forgotten.
There is actually a well-documented phenomenon called "Summer Learning Loss" or "Summer Slide." This refers to the decline in students' academic skills due to inactivity (that is why students are encouraged to read during school breaks).
Don't Give Up – Summer Guitar Lessons Are Here!
We realize it's tough motivating children to practice or even having summer guitar lessons or other music lessons in NYC when they'd rather be outside. Here are five tips on how to get them to play their music:
Start by explaining to your son or daughter why it is important to keep practicing: so that they don't lose all the skills they already mastered.
By the same token, it would be good if they understood themselves how frustrating it would be in September to have to "catch up" and relearn what they already knew but have forgotten during the summer.
It's all in the scheduling. Don't overburden the child with "musical chores." No planning lessons and practice sessions to the exclusion of playtime and all the other activities. Just because she has lots of free time on her hands doesn't mean her music training should fill every hour of her day!
If your child has a friend who also plays an instrument, arrange for them to practice together. Perhaps put on a mini-concert for parents and relatives afterwards!
Keep them enthused and inspired by attending some summer concerts together.
Keep on Playing!
Looking for summer guitar lessons in NYC? We understand that your summer schedule may be different than during the school year. No problem! Just contact us as soon as possible and we'll be happy to set up your summertime lessons.