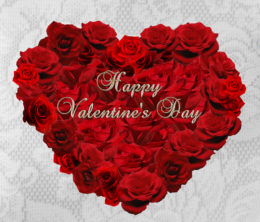 As Valentine's Day approaches, you will LOVE Manhattan guitar lessons!
You'd think that people would have had enough of silly love songs.
I look around me and I see it isn't so.
Some people want to fill the world with silly love songs.
And what's wrong with that?
I'd like to know.

~ Paul McCartney
Silly or not, nearly everyone has a soft spot for love songs. And this will become even more evident on February 14, when we celebrate St. Valentine's Day.

Actually, there is a scientific answer to the question about why we are partial to love songs: research indicates that they bring back sweet (and sometimes bittersweet) memories of – to quote one famous song, "the way we were."
In other words, love songs allow us to re-live the emotions associated with a particular tune. In a way, it's like watching a favorite movie time and again: you never tire of the memories and feelings it brings out.
"Thy presence is my light"
Though Barry Manilow famously sang, "I've been alive forever,
and I wrote the very first song "
we suggest you take these words with a pinch of salt.
There is evidence that the world's oldest love song may be thousands of years old. In 2001, a team of archeologists discovered a 4,300-year-old tomb of an Egyptian nobleman, which contained hieroglyphs suggesting that it was probably a song of love, honoring the deceased man's wife. We don't know what the song was about, but we are we are fairly sure Barry Manilow didn't write it.
In the 3rd century, when St. Valentine lived and died, music was mostly religious, but romantic love songs became very popular in the Middle Ages. Those Medieval songs reflected prevalent mores of that time, which centered on the notion of a "courtly" love – very chivalrous and gallant. In those days, the dating process included long-drawn phases such as "admiring a fair lady from afar," followed, after a certain amount of time spent pining and suffering, by proclamation of eternal love to her, on a bent knee.
In those days, traveling musicians known as the troubadours would serenade the ladies with most fashionable love songs, such as:
"Be thou my vision, Oh Lord of my heart
Naught be all else to me, save that thou art
Thou my best thought by day or by night
Waking or sleeping, thy presence my light."
Don't these lyrics prove that the more things change the more they remain the same, at least as far as romance is concerned? The language might be outdated but the sentiment rings as true today as it did back then!
That loving feeling
Literally thousands of love songs have been written over the years – sad, happy, and everything in between. But have you ever wondered which musical instrument is the most "romantic" one?
There is no scientific research that we know of, which would shed light on this question. It is a totally subjective matter of personal preferences and affinities. However, just for the fun of it, we have checked out some online discussion forums and informal surveys focusing on this topic.
The four instruments that the users of these groups find most romantic are the violin, piano, guitar, and saxophone (with the last one rated as "the sexiest" rather than merely romantic).
Fall in love – with Manhattan music lessons
It so happens that we teach all of the above-mentioned instruments – the violin, piano, guitar, and saxophone – and many more.
One of our teachers would…love to come to your Manhattan, Brooklyn or Riverdale home or office and give you music lessons on an instrument of your choice (or voice lessons, if that's what you want).
We'll help you bring the most beautiful love melodies into your life and the lives of people around you.
Happy Valentine's Day!