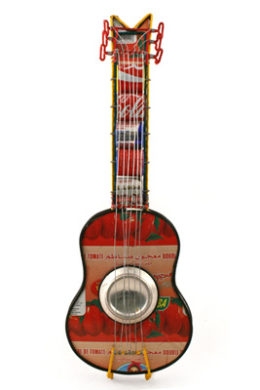 Manhattan music school tells you why recycling makes an "instrumental" difference
The topic of this blog – recycling – may surprise you. But, as you will soon find out, there IS a connection between recycling and music. Yes, really! Now, unless you have been living under a rock somewhere, or just landed on Earth from another planet, you certainly know what the term "recycling" means:  making new products out of old materials.
Not only is recycling good for the environment because it conserves precious resources, but it also "breathes" new life into items that would otherwise be discarded, adding to the already toxic pollution. Think of it as a "reincarnation" of sorts: an old and seemingly useless object can, in a manner of speaking, be born again. And this is where the topics of recycling and music converge.
From trash to art
Recently, we came across a very interesting article about Gary Zimnicki, a Michigan luthier (a person who makes or repairs string instruments) who is using reclaimed floorboards and ceilings from dismantled vacant buildings to make ukuleles and mandolins. Zimnicki, who, as the article notes "has been making high end guitars, mandolins and ukuleles for musicians all over the world" for over 30 years, "began using old floorboards and ceiling joists to craft more than a dozen instruments." Although the work is difficult – it involves cleaning off "decades of dirt and gunk and then sawing into the very hard wood," Zimnicki says the effort is worthwhile: the 100-year-old floorboards "produce a deep, rich sound." It goes without saying that Zimnicki is to be lauded for thinking out of the box, and for being so creative and imaginative.
Old instruments never die
If you are concerned about preserving the environment, you are familiar with the "three Rs" concept: reduce, reuse, and recycle. Zimnicki is reusing and recycling old parts and, at the same time, reducing potential waste so it doesn't end up in a landfill somewhere, polluting the air we breathe and the water we drink. But you might be wondering what happens to old musical instruments once they emit their last sound? Can they be reused and recycled? The answer is yes…and yes. With a dash of creativity, you can turn old instruments into some very cool decorative objects, which will add a unique personality to your home. For instance, instruments and other musical accessories can be transformed into lighting fixtures, side tables, shelves, and other unique pieces. Yes, we know, this is not your conventional home decor, but it just shows that the love of music takes – literally – many different forms and shapes!
Let us into your environment!
Our Hey Joe Guitar teachers don't care what your furniture looks like or, for that matter, whether you have any at all (okay, we take it back: a couple of chairs – even recycled ones – to sit on during a lesson would be nice). As long as there is an instrument (brand new, second-hand, or even made from old floorboards) and a student willing to play it, we will happily come to your Manhattan, Brooklyn, or Riverdale home or office and give you or your child music lessons.
Photo by Darla Robbins