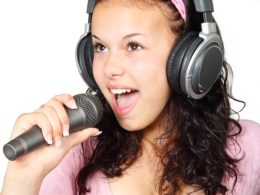 Get Rhythm – with Manhattan Voice School
"The only thing better than singing is more singing." So says the famed jazz vocalist Ella Fitzgerald, whose impressive vocal range spanned three octaves.
We, of course, agree. Powerful human voice that breaks into a rousing song is a beautiful sound. And even if there are no lyrics involved, it can still send the chills up your spine! Just listen to this "wordless" song by a Russian performer. Several years ago, it was plucked from obscurity and posted on YouTube, where it quickly became a viral sensation.
And here is another example of a strong, ear-pleasing voice.
See? When we say "the power of the voice," we mean it!
A perfect pitch
Now, it's certainly true that most people are not born with voices that can shatter glass (though many babies seem to have amazingly strong voices – especially in the middle of the night!).
What does singing off-key sound like? It sounds like this .
Vast majority of humans can carry a tune – some better than others. But there's a huge difference between singing in the shower and performing in front of an audience – even if it is only your family and friends.
The best way to sing with power, passion and confidence is to know how to control your voice. You may have heard about vocal components like the pitch, rhythm, volume, tone, and pace, but learning to fine-tune and use them to the best effect while singing is an art!
There are other important singing skills to master as well – for instance, how to use your abdomen muscles, proper breathing techniques, good posture, etc. They are necessary not only to help your voice carry high and low notes, but also to keep your vocal chords in shape.
All of this might seem like a lot of work and you may not know where (or how) to start building and developing your voice. No need to worry – we are here for you!
With a song in our hearts
As you know, Hey Joe Guitar offers guitar, piano, drum, trumpet, trombone, brass, reeds, saxophone, clarinet flute, violin, viola, cello, strings, accordion, ukulele, banjo, recorder, and mandolin lessons right in the comfort of your Manhattan, Brooklyn, or Riverdale home.
But that's not all! We also have excellent voice teachers who certainly know how to carry a tune. They also have the ability to help you whip your own voice into shape, so that you can sing, sing a song, sing out loud, sing out strong!
Photo by unknown, available under Creative Commons License