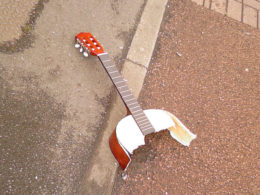 Your Instruments are in Safe Hands with New York City Music Lessons
New York musician Boujemaa Razgui had a big surprise – but not a good one – waiting for him when he landed at JFK recently. U.S. customs officials seized and smashed each one of his handmade flutes – 11 neys and two kawalas, which are commonly used in Middle Eastern music.
What possible danger did these instruments pose to the nation's security, you may ask? Customs inspectors decided that the bamboo flutes were "agricultural products" capable of unleashing foreign pests and diseases onto U.S. crops and livestock.
This wacky-but-true story brought to mind other interesting incidents involving musical instruments. We are happy to share them with you here!
Unfriendly skies
It would seem that airports are not the friendliest and safest places for instruments – as the above example demonstrates.
A few years ago, another story made news, this one unfolding on the tarmac of Chicago's O'Hare Airport. Canadian musician Dave Carroll and his band, Sons of Maxwell, looked out the plane's window and watched in horror as baggage handlers tossed Dave's expensive guitar.
The guitar was damaged, but when Dave complained to United Airlines, he got the runaround. Frustrated, he wrote a protest song of sorts and posted it on YouTube The video
quickly went viral and the airline, embarrassed by the negative publicity, eventually compensated Dave for the damage.
In the meantime, the song not only became a YouTube and iTunes hit, but also made TIME Magazine's list of the Top 10 Viral Videos of 2009. And that's not all: Taylor Guitars, a company that manufactured the mishandled instrument, offered Dave two guitars and other props for his second video ; that and the following one recount the entire United-versus- guitar saga, as it unfolded.
Dave has successfully turned his tale of woe into a series of tongue-in-cheek videos; we love the way he handled this matter and are happy that he prevailed in the end!
Lost – but found!
Another tale with a happy ending is that of an old Stradivarius violin and its absent-minded caretaker.
A 2012 story out of Switzerland reported that a musician left the priceless instrument, which he borrowed from a friend, on a train. Surveillance tapes showed another passenger leaving the train with the violin in his hand, and authorities immediately launched an appeal for help.
Now, you must know that Stradivarius violins are not exactly a dime a dozen. They are rare – only several hundred of these 17th century treasures remain in existence today – and they are very, very expensive (the one left on the train was reportedly worth several million dollars).
So it must have been music to the hapless fellow's ears when he found out that the person seen with the violin in hand was not a thief but a Good Samaritan carrying the instrument to the station's "lost and found" office. As the savior explained it, "There were some drunks on the train, so I took the violin case to make sure nothing happened to it."
There are lots of other great stories involving musical instruments – funny, wacky, or just interesting.
And here's an anecdote we find hilarious: For Christmas 1936, Spanish painter Salvador Dalí sent comedian Harpo Marx a harp with barbed-wire strings. Harpo sent back a photograph of himself "playing" the instrument with bandaged fingers. Isn't this …surreal?
"TLC" is our middle name!
You already know that Hey Joe Guitar is an excellent music school and our teachers are second to none.
But here's something you might not have known, so we hasten to add it: our teachers handle instruments with tender loving care. You can rest assured that when they show up at your Manhattan, Brooklyn or Riverdale (Bronx) home, they will NEVER smash the flutes, damage the guitars, or wreak havoc with any other instruments!
Photo by drinks machine