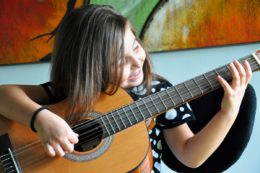 Brooklyn Guitar School Plays All Summer Long!
It's vacation time and your kids just want to be carefree. At this point, school and homework are probably not even on their radar. Does this attitude extend to their music lessons as well? In other words, do your children stop playing their instruments during the summer?
At the mere mention of practice, your child will probably run the other way. We get that. But the fact is that kids who don't play during their summer vacation may lose some of the skills and techniques they had mastered during the school year. We have seen this time and again: children who resume their music lessons after a summer of inactivity often need several weeks to "catch up" – relearn what they already knew but have forgotten. Picking up an instrument for the first time after a long hiatus can be so frustrating and de-motivating that students may not event want to continue playing. That's why it is important that they (and adults too, for that matter) constantly build on their current level of ability. There is actually a well-documented phenomenon called "Summer Learning Loss," or "Summer Slide," which refers to the decline in students' academic skills due to inactivity (that is why students are encouraged to read during vacation). The same applies to music literacy as well.
Keep on playing!
What can you, as a parent, do to encourage your child to keep taking music lessons and practicing during the summer? It's all in the scheduling. Don't overburden the child with "musical chores" by planning lessons and practice sessions to the exclusion of playtime and all the other activities. Just because he has lots of free time on his hands doesn't mean his music training should fill every hour of his day! On the other hand, tell the child that vacation from school doesn't mean vacation from her instrument. She should commit to a certain number of music lessons during the summer and some practice time as well. Explain to her why it's important to play even when school is out: so that she can keep progressing. You might say something along these lines: "You've been so good about taking lessons and practicing. You wouldn't want to lose all the skills you already learned, would you? At the end of the day, your child learns to foster a sense of responsibility and discipline. These skills will surely prove useful throughout her life – and not just in music!
Business as usual
Just as your child doesn't take a break from music, neither do our teachers. To paraphrase the USPS motto, "Neither rain, nor snow, nor sleet, nor hail shall keep Hey Joe Guitar teachers from their appointed rounds (though a zombie invasion might!) A teacher will come to your Manhattan, Brooklyn, or Riverdale home or office to give music lessons all summer long. This way, your child will lose no skills, and even gain some new ones!