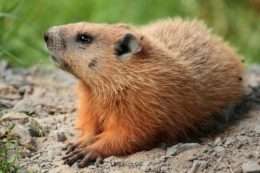 Heart-Warming Teachers and Music – at Brooklyn Guitar School
Do you know what today is? Yes, it's Monday, February 2nd, but it is also a special occasion of sorts – especially for people who care about tradition, weather, and small animals.
Like every year, February 2nd is Groundhog Day, when – as legend has it – the furry rodent wakes up from winter hibernation and goes out to look at his shadow. If he sees it, there will be six more weeks of winter. If not, good news: spring is just around the corner.

This custom is particularly "hot" in Punxsutawney, PA, where a groundhog named Phil has been predicting the early or late onset of spring since 1887. The tradition is based on Candlemas, the day that marks the midpoint between winter and spring. This is how a poem describes it:
"If Candlemas be fair and bright,
Winter has another flight.
If Candlemas brings clouds and rain,
Winter will not come again."
We hasten to add that none of the above is based on scientific evidence, but there are plenty of folks out there who swear by the groundhog's predictions.
No need to shiver
For the record, Phil has seen his shadow about nine times out of 10, and the predictions so far have been correct 39% of the time – make of this what you will.
Now, let's assume that today Phil sees his shadow, meaning that we still have weeks of winter ahead. Does this mean you have to grudgingly put up with the continued cold weather? It all depends on your attitude and state of mind!
What we mean is this: February doesn't have to be cold and dreary. Did you know that in 2002 and 2012 temperatures in New York City reached balmy 40s? (No, it's not exactly tropical weather, but it's not frigid either). And, February days are not all grey and bleak; on average, NYC has 17 sunny or partly sunny days during this month – certainly much more comfortable conditions than those in Alaska or North Dakota, the states which, according to National Climatic Data Center, have the coldest winters.
Heat up with music!
An important thing to remember as you slog through February is that each day is bringing us closer to spring – no matter what Phil would have you believe. After all, that's the law of nature – seasons come and go (well, maybe not so much in North Dakota, but certainly in New York!)
In the meantime, you can brighten and liven up February days with upbeat music that reminds you of summer, but you can also learn to play your own "hot" tunes. We make it so easy for you – just contact us and we'll send a friendly and…warm teacher to your Manhattan, Brooklyn, or Riverdale home or office.
No need to leave the comfort of your house – we will do all the trudging through the snow, sleet, slush, and other winter obstacles.
In the meantime, we wish you a shadowless Groundhog Day!