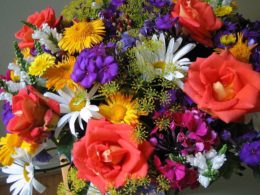 Manhattan Music School Honors Moms
"God could not be everywhere and therefore he made mothers."
~ Rudyard Kipling
That's certainly one thought nobody can argue with – we all know that moms have eyes in the back of their heads. Just like Santa Claus, they see you when you're sleeping, they know when you're awake, and they know if you've been bad or good (so be good for goodness sake)!

This brings us to this blog's topic: Mother's Day. Traditionally – at least in the United States – this event is celebrated on the second Sunday of May, which this year falls on the 10th.
Celebrations of motherhood can be traced back to the ancient Greeks and Romans – all of whom, of course, had mothers. In the United States, this holiday started only at the beginning of the 20th century when a West Virginia woman named Anna Jarvis campaigned, after her own mom died in 1905, to set aside one day each year to honor all mothers.
Her efforts had not been in vain; in 1914, President Woodrow Wilson signed the proclamation creating Mother's Day on the second Sunday in May as a national holiday. And the rest, as the saying goes, is history.
Singing praises to mom
There are many ways to celebrate Mother's Day, beyond the usual gifts of flowers and chocolates. We are referring to music!
You may think that moms are not your typical muses for songwriters but, in fact, there are quite a few pieces of music that pay tribute to mothers' love, advice, and devotion.
Take, for example, The Supremes' 1966 hit song "You Can't Hurry Love" , which talks about a mother's wise advice:
"I need love, love to ease my mind
I need to find, find someone to call mine
But Mama said
You can't hurry love."
One of the most heartwarming "mom" songs is the Beatles' 1970 hit, "Let it Be." As Paul McCartney told it, back in 1968, as he was going through a particularly difficult time in his life and career, he had a dream about his late mother, Mary. "There was her face, completely clear, and she said to me very gently, very reassuringly: 'Let it be.'"
And how sweet it was when the Backstreet Boys dedicated their 1999 song "The Perfect Fan" to their moms.
A more recent mom tribute is Taylor Swift's "The Best Day" (2008), where she remembers her childhood and tells her mother, "you're the prettiest lady in the whole wide world."
There are, of course, many more songs dedicated to mothers, as this playlist from Billboard magazine demonstrates.
Mom says…call Hey Joe Guitar!
As you can see, Mother's Day could be a truly musical celebration. But we don't have to tell you that playing music is not an activity that's limited to any particular holiday or celebration. Music really is perfect for any day and any reason.
It doesn't matter whether you want to play the guitar piano, or any other instrument, or perhaps sing your heart out (figuratively speaking, of course). We have great teachers, who can come to your Manhattan, Brooklyn or Riverdale home or office, give you music lessons – and maybe even mother you a little!
Photo by unknown, available under Creative Commons License